Chinese knots weave a better life for disabled woman
Share - WeChat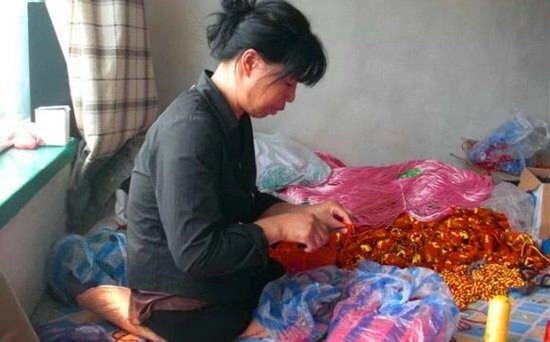 Han Xiaojun, a disabled woman in northeastern China's Liaoning province, has weaved a good life for herself and her family through 10 years of hard work on Chinese knots.
A car accident led to her amputation at the age of 21. After the incident, her husband divorced her.
"My son gave me the courage to live. Although I am disabled, I have the responsibility to give my son a good life with my hands," she said.
Han's father is a Chinese knot artist. She began to learn from him about crafts and weaving Chinese knots.
Han's Chinese knots have many styles, exquisite colors and ingenious names.
In 2013, Han's traditional knotting skills were listed in the fourth batch of intangible cultural heritage projects by Yingkou city. Her devotion finally was recognized and she started her company.
Han knows that it is not easy for the disabled to find a job. Therefore, she takes the disabled as her preferred target for recruitment.
Dozens of disabled people started to learn knitting techniques from her and have generated a good income.
Zhi Hui contributed to the story.