Radical protesters blasted for undermining rule of law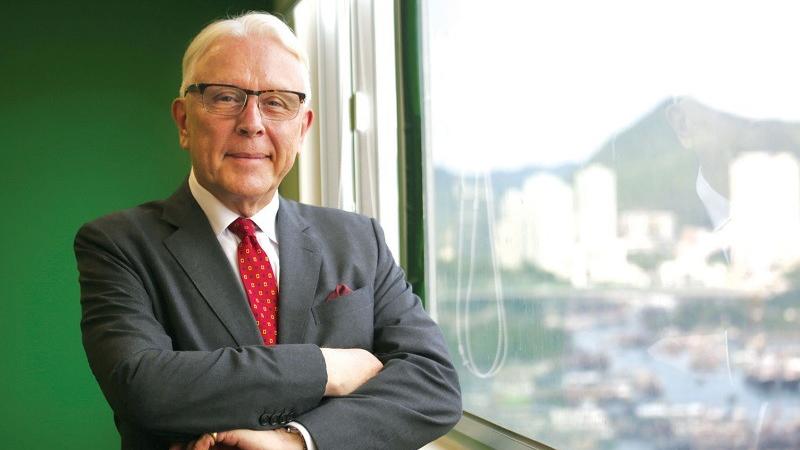 Radical protesters, who resorted to acts of violence and vandalism, are undermining Hong Kong's rule of law, and the "one country, two systems" principle by which the city is governed, said the city's former director of public prosecutions Grenville Cross on Tuesday.
He refuted comments by both foreign and local politicians attributing the social unrest to Beijing, saying such comments were "highly irrational" and "purely anti-China rhetoric which actually has no basis in reality".
Since mid-June, Hong Kong was plunged into a deep crisis as the anti-extradition bill protests escalated into violent clashes with police. Masked and helmeted protesters, mostly clad in black, wreaked havoc across the city. They vandalized the Legislative Council Complex, laid siege to police stations and disrupted public transport services.
The radical protesters also upgraded and refined their tactics and weapons against the police force. On July 19, the police busted the city's largest bomb plot in a Tsuen Wan industrial building, which was suspected to have links to the radical protesters.
"We saw peaceful protests initially… But the peaceful protest movement was hijacked by fanatics. These are people who are prepared to use violence in order to make their points, and, as they see it, achieve their aims," he said.
According to police, 420 people have been arrested for unlawful assembly, rioting, assaulting police officers and possession of offensive weapons since June 9, when the protests fi rst started.
"These are people who have no regard for the rights of others, and basically they're declaring war on society," said Cross, who held such people, which is a small minority of Hong Kong society, responsible for the escalation of violence.
He dismissed claims by US Secretary of State Mike Pompeo who said the unrest in Hong Kong was "indicative of problems caused by authoritarian rule".
"Hong Kong enjoys a high degree of autonomy, and Beijing has been scrupulous in maintaining the Hong Kong legal system and its way of life. It has kept the system since 1997. And we are very fortunate indeed that it has been able to continue in that way," he said.
Cross also slammed foreign and local politicians - especially those from the Civic Party - for encouraging radical protesters' violent conducts, leading them to indulge in the delusion that political violence is acceptable.
The law professor said the radicals have undermined the city's rule of law with an agenda - separatism. He drew his conclusion from the separatist slogans, such as "Hong Kong is not China", on banners and chanted by protesters during the march. Other evidence includes the defacing of the national emblem, defiling the national flag twice in three days and the tearing up of copies of the Basic Law, which is the symbol of the "one country, two systems" principle.
"What they would like would be for Beijing to intervene, for 'one country, two systems' to be ended, or at least compromised. Because if that happened, then there would be an international outcry and many countries around the world would accuse China of the intervention."
What's in line with the rule of law is that those who committed crimes are brought to justice and face due punishments. For that reason, the demand by protesters for a blanket amnesty for those convicted is a direct challenge to the rule of law, Cross said.