Stargazing tourism shines bright in Tibet on Qixi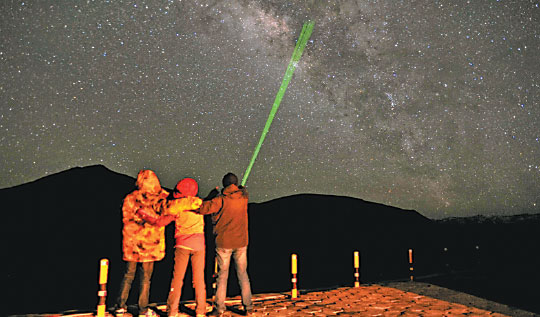 LHASA - Zhou Mo, a school teacher in Hangzhou, and her best friend took off early Tuesday morning and spent almost seven hours on a plane before landing at Lhasa airport in Tibet. One of their goals was to gaze at the Milky Way over the Himalayas.
This year's Qixi festival, or Chinese Valentine's Day, falls on Wednesday, the annual date for a Chinese mythical couple to reunite on the bridge of magpies, or the Milky Way.
"We planned to stargaze by Namtso Lake on Qixi," Zhou said. "However, the weather is not in our favor. I'm a little bit worried."
Despite the forecasted rain and cloud, tourists have shown their enthusiasm in being stargazers on such a special day, as travel agencies reported a surge in the number of tourist groups to Namtso, Yamdrok Lake, base camp of Mt. Qomolangma and Ngari prefecture, all of which are considered good destinations for stargazing.
China built its first dark night park in western Tibet's Ngari in 2014. With an altitude of 4,200 meters, the park sits about 25 km south of the town seat, and offers tents, an area for telescope observation and various facilities for tourists.
"Ngari's high altitude, low precipitation, high transparency, low humidity and pollution made it an ideal place for building a dark night park," said Yao Yongqiang, chief researcher of the National Astronomical Observatories.
To welcome incoming stargazers, the dark night park has built a special platform for meteor photographers, multiple high-power astronomical telescopes for astrophiles, and food, beds and introductory science films for tourists.
"It's just so irresistible to have intimate contact with the stars on the 'roof of the world'," Zhou said. "Where I live, seeing just a handful of stars is considered a luxury, never mind the Milky Way."
Tourism has become much more "niche" in Tibet, as more travellers have brought fresh ideas and demands in recent years, with stargazing a popular choice, said a travel agency manager surnamed Xu, who has been working in Lhasa for over a decade.
Tibet received over 13.4 million Chinese and international tourists from January to June, up 20.2 percent year on year, generating a revenue of about 15 billion yuan ($2.1 billion), according to official statistics.