Yuan's exchange rate will remain reasonable: China Daily editorial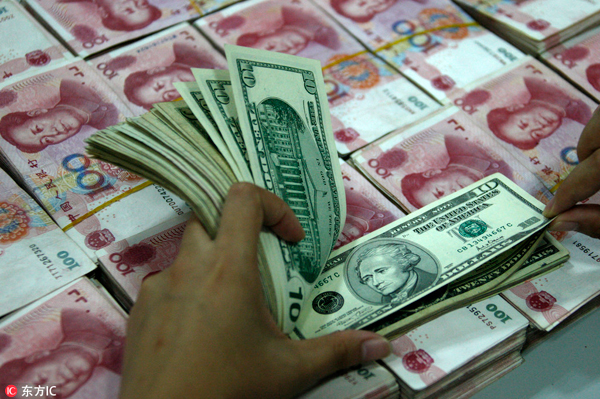 The Chinese yuan went beyond 7 against the US dollar on Monday, causing quite a stir. But it is actually nothing more than a normal daily trading fluctuation and does not deserve over-interpretation.
The yuan is weak against the dollar in the short term mainly because of the pressure caused by the unilateral and protectionist moves of the US government, which has dampened Chinese exports and had a bearing on the expectations of the yuan's exchange rate against the greenback.
But if we look at the yuan-dollar exchange rate trajectory over a longer period of time, the Chinese currency has remained on an upward trend against the US dollar since the late 1990s, rising by about 20 percent, which is largely in line with the overall strengthening of the Chinese economy, which is now the world's second-largest and expected to become the largest in one or two decades.
If we compare the yuan with other currencies, the yuan remains strong in comparison with other major international currencies, such as the euro and the British pound. Since the start of this year, the yuan's exchange rate against the US dollar weakened by 0.53 percent, less than the currencies of other emerging-market economies, the United Kingdom and the European Union.
While short-term fluctuations occur in the exchange value of any currency, a currency's long-term exchange rate is fundamentally determined by the economic fundamentals of the country concerned.
China's economic expansion has eased this year, but the correction is quite tolerable, with its year-on-year GDP growth down from 6.4 percent in the first quarter to 6.2 percent in the second, which is still one of the fastest growth rates among major economies.
Although the authorities have been making the exchange rate more responsive to market forces, which has pushed the yuan lower, the country's economic fundamentals remain sound, and the possibility is slim that the yuan will experience drastic slumps.
Moreover, the monetary policy easing in the developed world, together with the recent weakening dollar, will help stabilize the yuan's exchange rate, while China still has multiple policy tools at hand.
Therefore, the possibility is high that the yuan's exchange rate against the dollar will swing around the 7 mark in the coming months.
For China, such narrow-band fluctuation is nothing to worry about. A mild fluctuation is an inevitable and acceptable result of the country's liberalization-oriented reform of its exchange rate management regime, and a weaker yuan will benefit the country's exports, although Chinese leaders have promised to avoid competitive devaluation of the yuan to boost exports.
That said, if the US further escalates its trade frictions with China and the global economic landscape continues to sour, there would be heavier devaluation pressure on the yuan. China must make thorough precautionary preparations for any worsening scenario.
Most Viewed in 24 Hours
China Views