Shaanxi shows the write stuff at 29th National Book Expo
Share - WeChat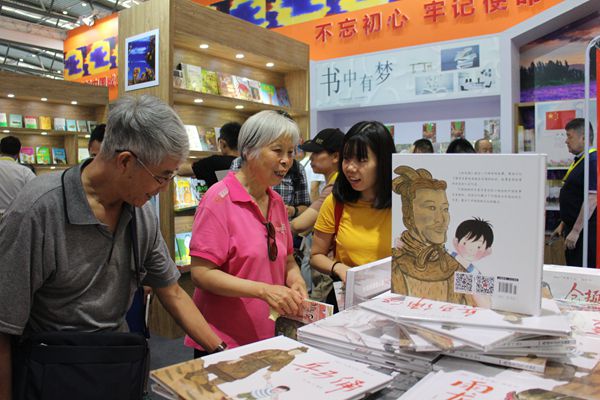 The 29th National Book Expo held in China's northwest, highlighted local literary legends, national history and the sciences, Mei Jia reports in Xi'an.
The undoubted star of the 29th National Book Expo, which was held in Xi'an, Shaanxi province, from July 27 to Tuesday, was writer Jia Pingwa.
He drew a big crowd of fans, with his name being called out wherever he turned during the four-day event.
The Shaanxi native says, with a local accent, that he is working on a new novel with urban settings and themes.
"Most of my stories are about villages or villagers around the Qinling Mountains, or the differences in thought between generations of Chinese people throughout a century… I've been living in the city for decades. It's time to look at city life," the 67-year-old author said at a readers' meeting organized by the Writers Publishing House at the book expo.
"I insist that a writer stays connected (with society), while still enjoying some solitude and keeping a certain distance from the hustle and bustle," he said at another event, where he was presented with an "honorary writer" award by the People's Literature Publishing House.
With his native village and his mother being his constant inspiration, Jia says he burst into tears upon a recitation of excerpts from an article about his mother on the first day of the expo.
With a total 150 writers in attendance, the book expo attracted 412,000 visitors to more than 500 events. Enthusiastic readers purchased 512,000 books, totaling 21.9 million yuan ($3.17 million).
"The expo has the largest exhibition area and the largest number of exhibitors in the history of national book expos," says Cheng Ningbo, director of the provincial Press and Publication Bureau.
Cheng also says one highlight was the special area inside the main hall that presented 159 titles as publishers' summaries and presentations of the country's achievements over the past 70 years.
Most Popular