Upbeat words in Bangkok need corresponding actions: China Daily editorial
Share - WeChat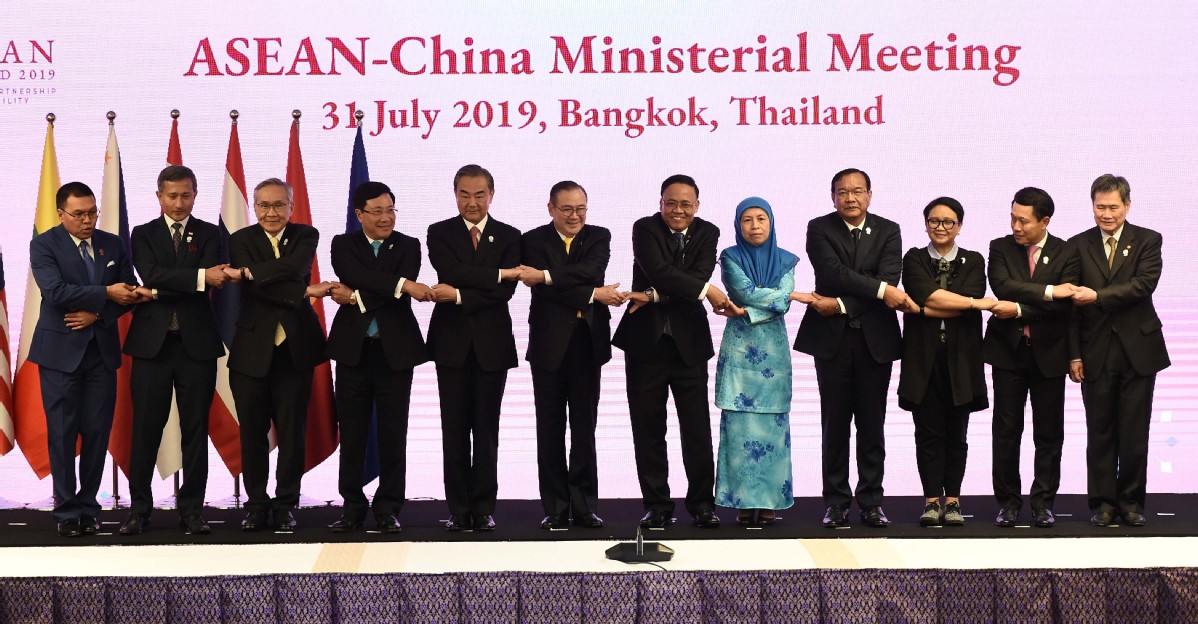 The messages from the ASEAN foreign ministers' meeting in Bangkok, as well as that between the top diplomats of China and the United States appear more positive than anticipated.
If they can be delivered on, regional affairs would be less messy going forward.
ASEAN members agreed to conclude the Regional Comprehensive Economic Partnership negotiations within this year. Which is expected to greatly boost regional trade and uphold ASEAN centrality in the regional economic architecture.
They also reached a broader consensus on implementing community-building initiatives. And in a sign of enhanced unity, they demonstrated an intra-region consensus on engagement with external partners.
Acting on these will be conducive to upgrading ASEAN solidarity and boosting its international influence.
But as well as the positive messages from ASEAN, there was also an upbeat message from the sidelines of the essentially ASEAN gathering in Bangkok. The meeting between the Chinese foreign minister and his US counterpart defied the expectations of fireworks, and instead struck a surprisingly constructive note.
Although what was said seemed at odds with the picture of today's China-US relationship, as is always true in diplomacy, rhetoric matters. It is far better to hear Chinese and US diplomats denying any hostility than watching them exchange verbal swords. At least it means bridges haven't yet been burned.
US State Secretary Mike Pompeo, who was a target in a very recent barrage of Chinese media criticism for his anti-Beijing remarks, told his Chinese counterpart in Bangkok that his country is not asking Southeast Asian nations to "choose sides" between China and the US. He also assured the latter that Washington has no intention of containing China, stays true to the one-China policy, as well as the three joint communiqués that constitute the cornerstone of present-day bilateral ties, and welcomes and encourages expanding people-to-people exchanges.
Yet despite all his conciliatory comments, that he and other US officials have for months been raising the alarm about the dangers of allowing significant Chinese investment in their technology and infrastructure sectors and raising a false alarm about Chinese researchers and students in the US is still fresh in the mind. Washington is also promoting its own strategy for a "free and open Indo-Pacific", in a bid to counter the influence of Beijing's Belt and Road Initiative.
So although the rift between China and the United States has been played down, until such words are translated into real-world actions, they seem nothing more than a veneer of amicability aimed at preventing relations from souring to a point of no return.
Which is something in itself, of course. But given the various issues and problems between the two countries, what is really needed for a relationship defined by coordination, cooperation and stability is for both sides to sit down and communicate, as Chinese Foreign Minister Wang Yi said.
Most Viewed in 24 Hours
China Views