Homestays heating up in Yanqing ahead of Games
Share - WeChat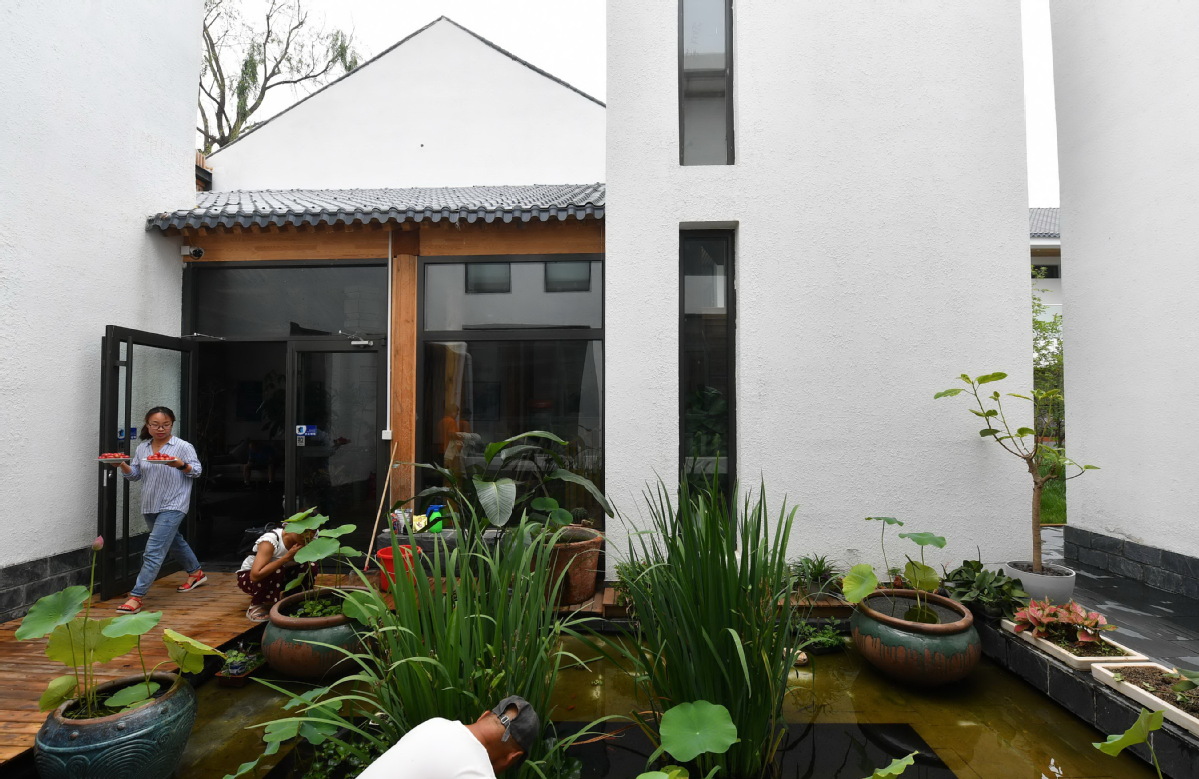 Beijing's Yanqing district is preparing to establish 300 homestays before the end of 2020 to involve more local villagers in the accommodation industry, a move designed to better serve the ongoing International Horticultural Exhibition and the upcoming 2022 Winter Olympic Games.
So far, 201 households have been included to provide homestay services to visitors, Zheng Aijuan, deputy director of Yanqing district's culture and tourism bureau, said recently. More than 8,000 beds have been prepared for expo park tourists at the homestays.
Some 74 kilometers northwest of downtown Beijing, Yanqing is where the expo is being held and where several Winter Olympic events - including Alpine skiing, bobsled, skeleton and luge - will take place.
Zheng said that in the beginning of this year the district proposed to build the country's first homestay cluster in its northern region to offer tourists a different accommodation experience.
"Meanwhile, we have been seeing more and more local youth return to Yanqing to help develop the tourism industry," she said.
Zhang Haichao, founder of Yin courtyard, is one of the representatives. A 30-year-old Beijing native, he started the Yin courtyard - a homestay with the theme of the Winter Olympics in Zhangshanying area, where the Beijing 2022 venues will be situated - in August 2016.
He said when he learned that Yanqing won the opportunity as one of three places to host the 2022 Winter Olympic Games, he decided to quit his previous trade business and return to his hometown to open a homestay hotel.
By the end of 2018, Zhang had opened eight guesthouses in Yanqing.
"Before I returned to Yanqing, I'd never expected that such a large number of tourists would like to come to the area for fun," he said.
The guesthouse has been entertaining about 2,500 tourists per month during the expo.
"The guesthouse industry owned by local villagers in Yanqing will further provide customized services to meet the growing demand of visitors," said Zheng, the deputy director. She added that more than 10,000 local residents had participated in the training for guesthouse operation.
As a water conservation area in Beijing, Yanqing has been developing its green ecology and leisure vacation tourism at a robust pace.
Infrastructure at more than 40 villages in Yanqing were upgraded before the opening of the expo on April 29, and those guesthouses are attempting to build a brand to better attract visitors, Zheng said.
"The district has great ripple effect," she said. "If we draw a circle that has the expo park at the center, the accommodation rate of four towns in Yanqing providing homestays reached 41 percent within a 10-kilometer radius in June, up by 10 percent year-on-year," she said.
Each homestay signed a service contract with the organizing committee of the International Horticulture Exhibition to cap the house price and better entertain visitors, according to Zheng.
"We also plan to build a Winter Olympics homestay brand in cooperation with some counties in Zhangjiakou, Hebei province, next year," she said.