Ne Zha's success and a blast from the past
Share - WeChat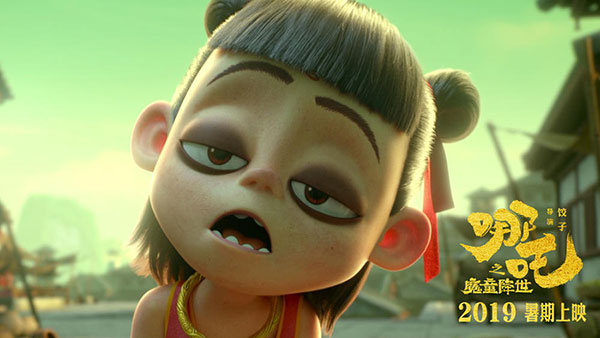 A new cartoon film, Ne Zha, based on a mythical male figure in Chinese folklore who is famous as an incarnation of a lotus and assumes its figure as hero, has created a record in China's cartoon film history while reviving memories of one of the best cartoon films in China's modern history.
Within four days of hitting screens, the film registered sales of 700 million yuan ($101.55 million). In fact, for two successive days its single-day sales exceeded 200 million yuan ($29.01 million).
Even on Douban, China's equivalent of Imdb where audiences and commentators are rather critical, it got a rating of 8.7 out of 10, possibly one of the highest in the website's history.
In simple words, Ne Zha has won unprecedented high popularity from the market and applause from professionals, which is quite rare. Not surprisingly, Ne Zha is often depicted as a young hero standing on two flaming wheels in Chinese legends and literary classics such as "Journey to the West".
But on domestic social networking sites, some have expressed worry about the film, comparing it with Prince Ne Zha's Triumph Against the Dragon King, a traditional cartoon film that hit screens in 1979. Based on the same legendary story, the traditional film is cherished as a memory by most people born in the 1980s, because its possibly the first cartoon movie they watched in life.
Some worry that the new cartoon film's success might dampen the older version's glory. On Sina Weibo, China's equivalent of Twitter, surveys were asking people to choose their favorite between the two.
But the worry is unfounded. Both films are based on the same legendary story and can only benefit each other. Actually, the old Prince Ne Zha's Triumph Against the Dragon King has seldom been mentioned in recent days and Ne Zha's emergence has only revived people's memory. The success of one can only make the other brighter.
Actually, it is wrong to assume that traditional and modern cultural works are ever at loggerheads. They are complementary and make each other better. China has a rich storehouse of traditional legendary stories, and exploiting them for modern works will only help these legends continue to influence people. That's the essence of a culture that's proud enough to exert influences in the modern world.
Most Popular