EB-5 visas price increased by 80 percent
Share - WeChat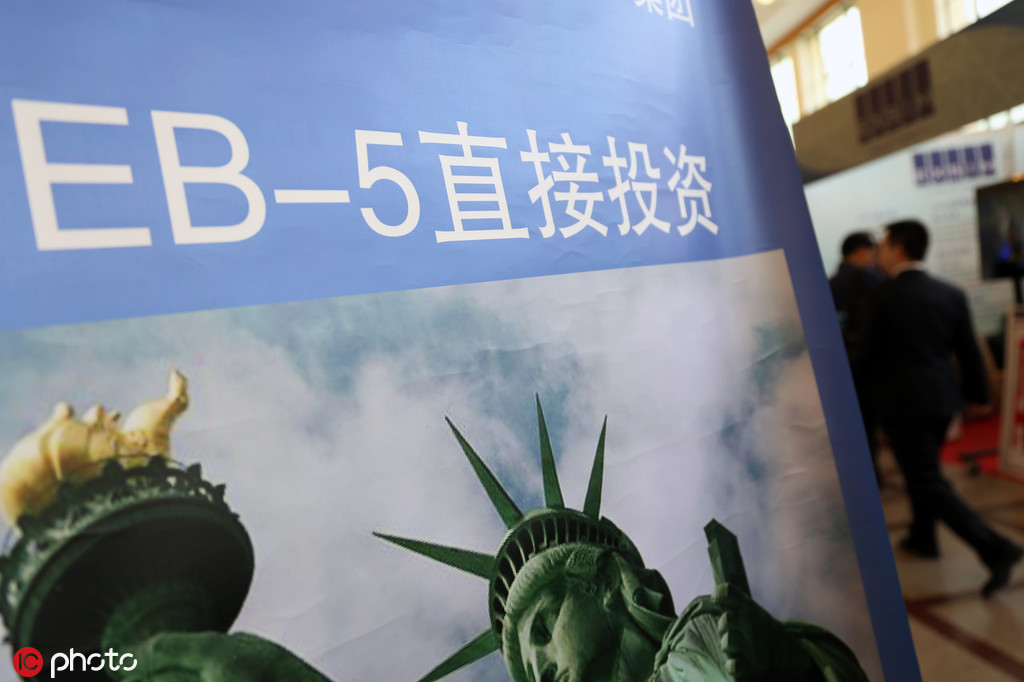 Green card-for-investment program faces steep increases; Chinese most affected
Immigrants who want to use the EB-5 program to seek permanent US residency will have to pay more money and invest at least $1.8 million after the standard minimum investment level increases from $1 million later this year.
The $800,000 increase for a two-year conditional green card will be the first change since 1990. It will have a direct impact on foreign nationals from China, India and Vietnam, who are the primary users of the program to effectively buy permanent residence in the US. The new rule takes effect on Nov 21, 2019.
Immigrants who choose to invest in "certain targeted employment areas" (TEA) under the requirements of the program will have to pay nearly double the amount, as the minimum needed to invest will increase from $500,000 to $900,000. The definition of a TEA will also be tightened.
"The new EB-5 changes will affect investors from China (and other countries) in a variety of ways," Stephen Yale-Loehr, professor of immigration law at Cornell Law School, told China Daily.
"First, I predict a surge of EB-5 petition filings until November 21, when the price increase to $900,000 takes effect. After that, I expect a sharp decline in EB-5 petitions, as fewer people will be able to satisfy the new minimum investment amount."
He added that the new rule makes it harder for projects to qualify as being in high unemployment areas. "That means that most new EB-5 projects will be offered at $1.8 million, not $900,000. That will make it even harder for most investors from China," he said.
"China is already backlogged several years for EB-5. That, combined with the price increase, will deter many potential Chinese EB-5 investors from applying for EB-5 visas after November."
According to the latest available statistics, Chinese investors have accounted for at least 80 percent of those who obtain EB-5 visas. Around 10,000 EB-5s are given out each year, but there is a large backlog. A Chinese national applying for an EB-5 may not get one until 2035, according to Bloomberg Law.
Carolyn Lee, principal and chair of the American Immigration Lawyers national EB-5 committee, told China Daily, "The US Department of Homeland Security believes that the investment amount should be raised to reflect 'present-day dollar value' from the time the amount was initially set in 1990.
"Some increase was, of course, expected and is a reasonable idea. It's the scale of the change, plus the change happening all at once, that concerns the EB-5 industry," she explained.
Invest in the USA, a trade association representing organizations that pool EB-5 investment, warned that the changes could "result in the virtual elimination of the program."
EB-5 has been an alternative way for foreign nationals to get a green card for nearly 30 years. Many invested in luxury projects rather than distressed areas as Congress wanted.
"Since its inception, the EB-5 program has drifted away from Congress's intent," said USCIS acting director Ken Cuccinelli in a statement. "This final rule strengthens the EB-5 program by returning it to its Congressional intent."
The program was created in 1990 to stimulate the US economy and create jobs. Investors who contribute to a commercial enterprise in a high-unemployment or rural area, creating at least 10 lasting US jobs, were eligible for the visa.
Figures obtained by Bloomberg showed that there were 34,000 applicants waiting to get their EB-5 per year and an additional 39,000 people (not included in that initial amount) whose applications hadn't yet been approved.
The changes to EB-5 come as the Trump administration tightens all visa rules for those looking to enter the US. The EB-5 program had come under fire by lawmakers who said it could be used for fraud.