Kindergartens to implement soccer training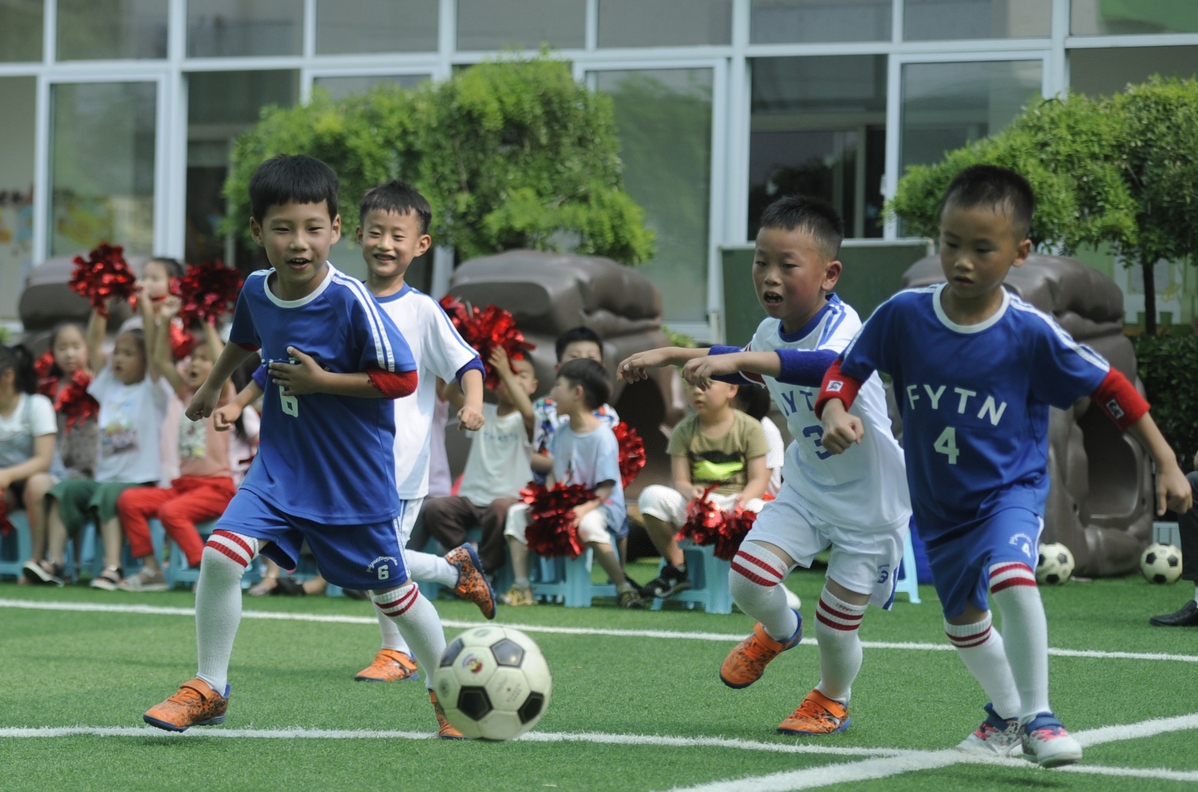 Effort is part of plan to assist nation in becoming a global power in the sport
China plans to select 3,000 kindergartens to become youth soccer nurturing grounds by the end of this year as authorities push ahead with reforms aimed at making the country a global power in the sport, the Ministry of Education said on Tuesday.
Wang Dengfeng, head of the ministry's Department of Physical, Health and Arts Education, said kindergarten is a key stage in the development of children's sporting interests, habits, understanding and skills, and the kindergartens will conduct play-oriented training to cultivate pupils' interest in the sport.
The ministry will provide soccer training to 200 kindergarten teachers and 200 principals, he said.
The country also plans to build another 30,000 primary and secondary schools with soccer programs in their curricula by 2025 to foster children's interest in the sport and promote high-quality coaching, training and competition, Wang said.
China has 24,126 primary and secondary schools with soccer as their main physical education emphasis, involving around 20 million students, he said.
To qualify as soccer-focused schools, they must have at least one soccer course each week for all students and also provide them with after-school soccer training and competitive matches, Wang said.
More than two-thirds of China's primary and secondary schools do not have soccer fields. There were more than 120,000 soccer fields in primary and secondary schools as of September, Wang said, but the country has more than 380,000 primary and secondary schools.
"We built, renovated and expanded 32,000 soccer fields in schools from 2015 to 2018, and another 29,000 will be built by 2020," he said.
An avid soccer fan, President Xi Jinping has said he has three World Cup dreams for China: to take part in the tournament again, to host the event and to win it.
The National Development and Reform Commission released a plan in 2016 calling for China to become an elite soccer nation by 2050.
With a population of 1.4 billion, China has continually underachieved in men's soccer. Its national team has qualified only once for the World Cup, losing all three matches and failing to score a goal in the 2002 tournament.
Deng Shijun, a soccer coach at a primary school in Wuhan, Hubei province, said that as the government has attached more importance to teaching students' soccer skills, there are now more soccer fields, activities, training and competitions at schools.
Students are more enthusiastic about soccer-related activities and parents have become more supportive of their children playing the sport, he said.
Wang said that although progress has been made in soccer education, there is still a long way to go for the country to become a power in the sport.
"There is no shortcut, and only earnest teaching, training, fair competition and strong public participation can help improve the country's soccer level," he said.