Liaison chief lodges 'strongest condemnation' over rioters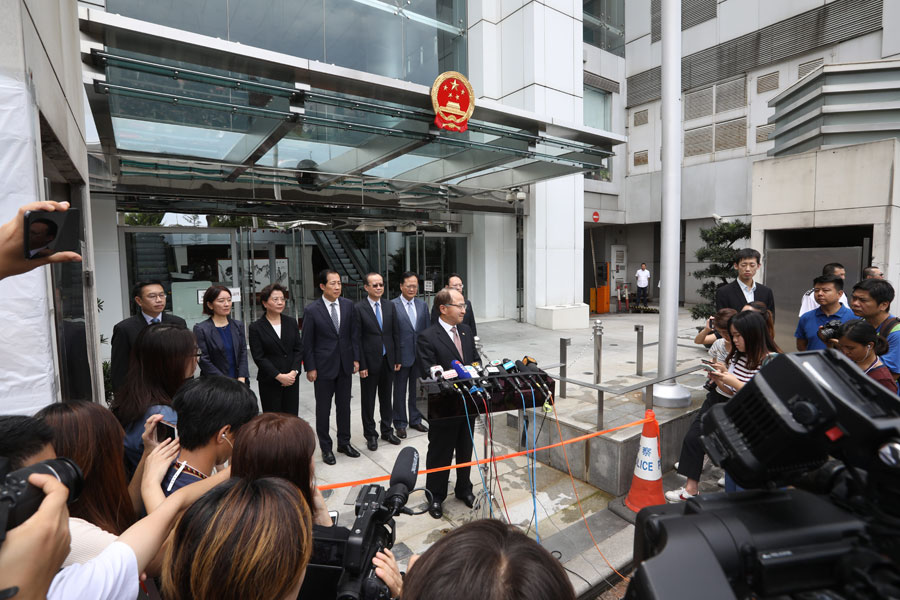 Wang believed all sectors in the SAR won't allow such chaos to continue, he said. Hong Kong is home to 7 million people and this shared home has seen loyalty from generation to generation and staunch support from the nation, Wang said.
He pledged the liaison office will firmly perform its duties as vested in them by the central government, and continue to support the SAR government in exercising law-based governance as well as supporting law enforcement bodies to safeguard and restore the city's law and order by effectively punishing unlawful rioters according to the law.
Extreme violence and vandalism targeting the liaison office occurred on Sunday night. Protesters erected makeshift roadblocks using metal barricades in front of the office, hurled eggs at the building and sprayed paint on CCTV cameras. The national emblem mounted at the office entrance was also defaced with black liquid, and graffiti with vulgar language was painted on the outer wall.
The defaced national emblem was replaced with a new one around 11 pm on Sunday.
Affected residents and shop owners blasted the attack on the liaison office in Sai Wan by masked protesters the day before.
An 81-year-old woman who lives in an adjacent area strongly condemned protesters' vandalism of sidewalks.
Pried bricks and damaged barrier railing were seen in the vicinity of the office as well.
She said protesters should express their views in a peaceful manner instead of vandalizing public property funded by taxpayer money.