Rioters in the HKSAR must face the full wrath of the law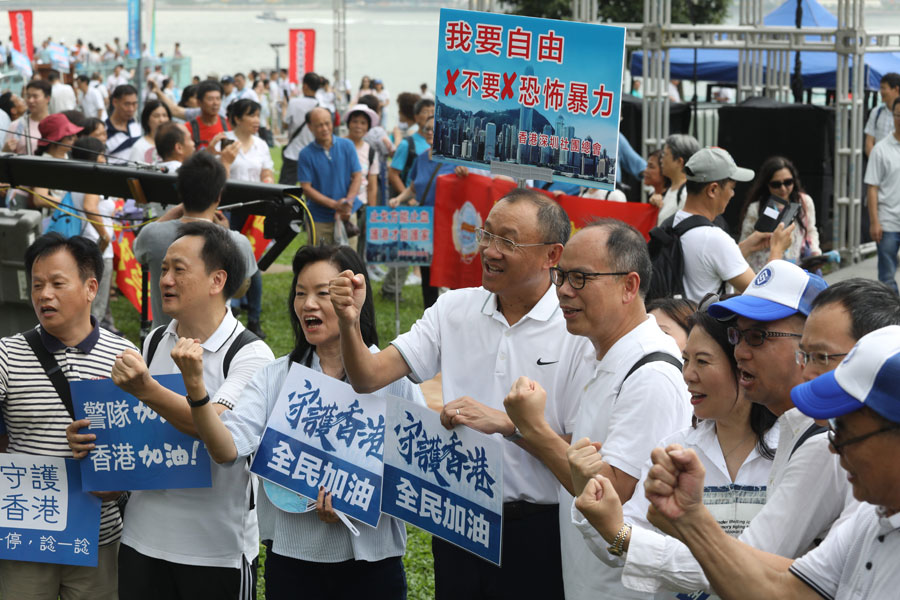 The ugly scenes of violence and unlawful behavior by radical protesters once again engulfed Hong Kong on Sunday night. Weeks of violence, particularly the latest episode, are more than enough to convince people that those who unleash them under the disguise of opposing the now suspended extradition amendment bill are diehard rioters who are bent on perpetuating their rascality until they are smacked down and made to bear the full brunt of the law.
Sunday night's clashes with the police have left the public convinced that these troublemakers aren't really targeting the extradition amendment law, which has long ceased to exist. They're trying to extort a political ransom by hijacking Hong Kong people's overall well-being.
The siege and vandalizing of the Liaison Office of the Central People's Government in the Hong Kong Special Administrative Region and the desecration of the national emblem mounted in front of the Liaison Office building is a brazen challenge to the nation's sovereignty. It's also an open renouncement of "one country, two systems" — the very foundation on which the HKSAR is built. It cemented the belief that the rioters are pawns being manipulated by anti-China forces to advance a much bigger agenda.
The rioters, undoubtedly, deserve the strongest condemnation by all Chinese people, including Hong Kong residents, and must be dealt with by the full weight of the law.
Equally culpable are those in the opposition camp. Instead of renouncing violence, they've encouraged young radicals to persist with their hooliganism by coming up with all sorts of excuses and justifications for their thuggish acts, with the aim of advancing their own political schemes. Most outrageous of all is that the opposition has been providing a convenient platform for these young radicals to unleash violence. Knowing that the extremists have made it a tactic to hijack every mass demonstration, the opposition camp has insisted on fermenting as many mass activities as possible, creating endless opportunities for the fanatics to sustain their villainy.
It seems these radicals are hell bent on pursuing their cause in total disregard for the well-being of Hong Kong society. Moral persuasion and reasoning have failed to yield any effect on them. They're treading a path to self-destruction.
Most Viewed in 24 Hours
China Views