4 dead after sudden mountain torrent in Jiangxi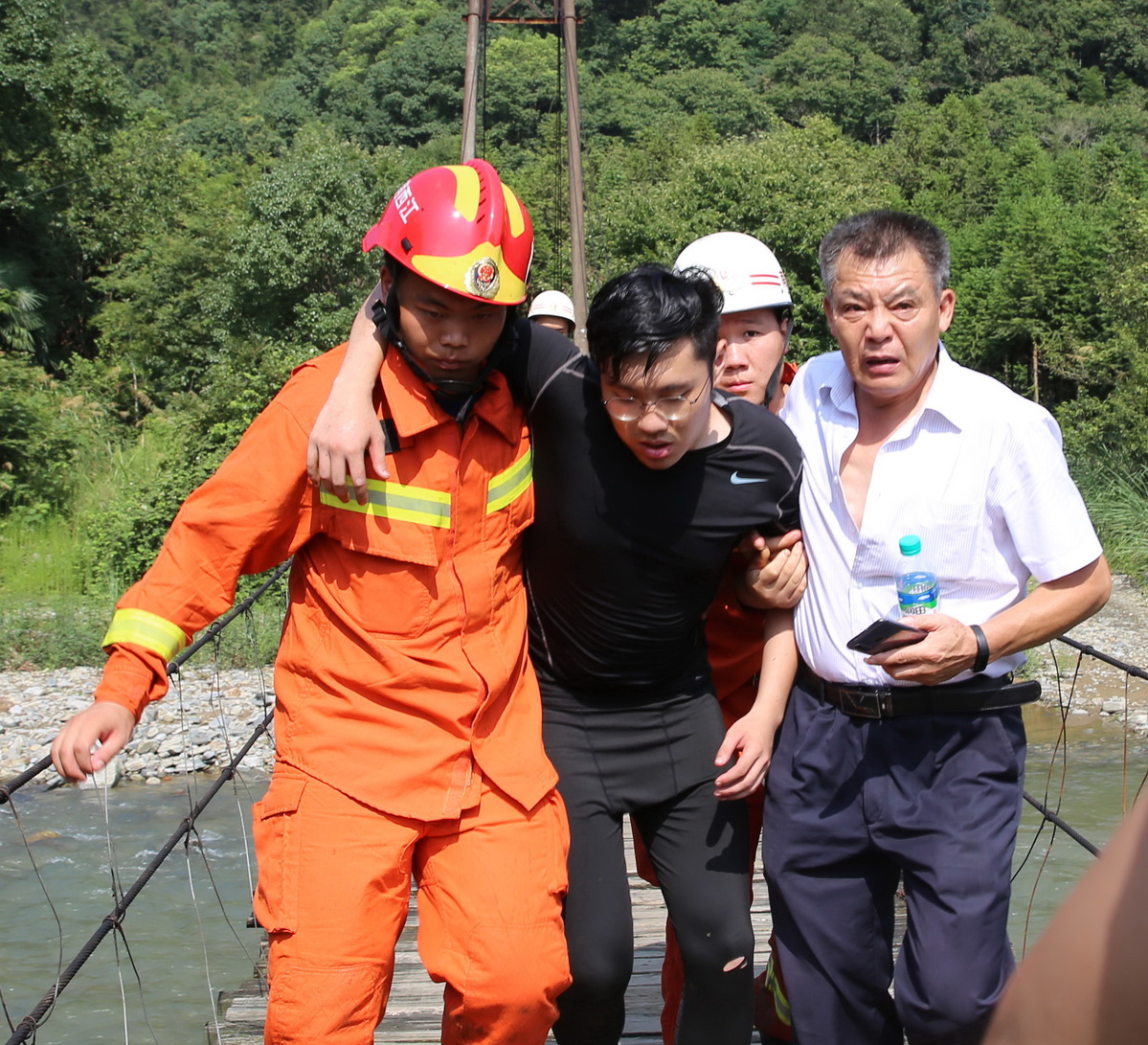 Four people were confirmed dead after a sudden mountain torrent ripped through a hiking route in Yichun city, Jiangxi province, trapping 283 outdoor adventurers as rainstorms continued to wreak havoc in other regions.
At around 2 pm on Sunday, the torrent resulted in a sudden rise of water in the creek in Lyuyangdong valley in Jing'an county and 84 of the trapped were reported missing, the Jiangxi emergency management department said on Monday.
Online video showed that the shallow creek had turned into a torrential yellow river. After evacuating 199, rescuers searched for a whole night for the missing people and managed to save 80 of them.
The other four were found dead, it said.
In addition to firefighters, police officers and members from civilian rescue teams, more than 300 officials were also mobilized to comb through the area to look for the missing people with help from unmanned aerial vehicles, it added.
Separately on Sunday, 118 tourists who were visiting Mingyue Mountain, a tourist attraction also in Yichun, were trapped after torrents resulted in a landslide and debris flow. All of them were saved after five hours of efforts from rescuers.
On Monday, rainstorms continued in many areas across the country. The torrents resulted in floods in many of the cities in Sichuan province, forcing the closure of at least six highway sections there.
The metrological authority of Yibin city in the province, for example, issued a blue alert, the lowest in the country's four-tier color-coded weather warning system, at 8 am on Monday, forecasting precipitation of up to 10 centimeters in the next three hours. The authority upgraded the alert to an orange one, the second highest, in the afternoon, saying the rainfall would last until Tuesday.
Online videos and reports from local media showed that water of more than 1 meter accumulated in some roads in Yibin's urban areas, leaving some vehicles inundated.
The wall of a vegetable market in the city collapsed because of the rainstorm, leaving one person dead and injuring two others, according to the local firefighting department.
The national observatory said on Monday that heavy rainfall was forecast to hit Sichuan Basin, North China and Northeast China on Tuesday.
The China Meteorological Administration and the Ministry of Water Resources jointly issued an alert for mountain torrents in the 24 hours after 8 pm on Monday, warning that there is a high possibility that the disaster will hit the southeastern part of Sichuan, western part of Guizhou province, and the northeastern and western parts of Yunnan province.