Standards to address equality in education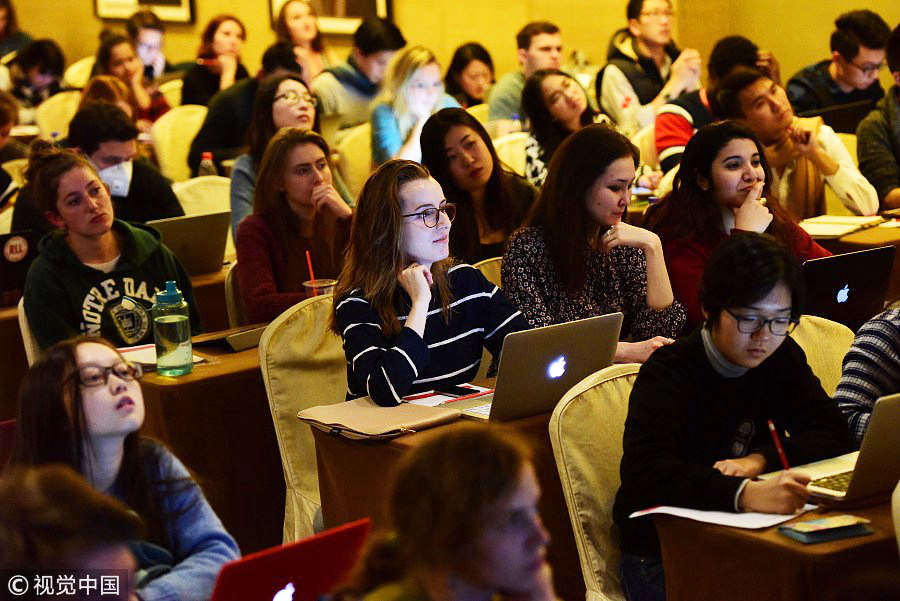 Ministry effort targets Chinese, foreign students amid 'buddy program' uproar
China will adopt similar management standards for international students and Chinese students to push for high-quality education for international students, the Ministry of Education said on Saturday.
The ministry will ask universities to adopt similar standards for all students, foreign and Chinese, in teaching, exam requirements, education resources and services, said an unnamed official from the ministry's department of international cooperation and exchanges.
Universities should also teach international students relevant laws and regulations in China, and students who violate those laws and regulations or commit crimes will be dealt with seriously, the official said.
The ministry's statement came after the alleged preferential treatment of international students at Shandong University recently sparked widespread criticism on social media.
The university apologized for an intercultural program that matched foreign and local students of the opposite sex on campus.
"We deeply regret the negative influence of this… we failed to do a proper job and included 'making foreign acquaintances of the opposite sex' as an option in the program application," it said.
According to a notice issued by the university last year, the university had paired 141 Chinese students with 47 foreign students, mainly of the opposite sex, under the "buddy program".
The notice was met with uproar online, with many netizens questioning why a university needed to help match up foreign students with members of the opposite sex.
Netizens also started to question other alleged favoritism given to international students at Chinese universities, such as generous government scholarships, better dormitories and lower standards for them to pass exams.
The ministry said 63,000 international students were funded by Chinese government scholarships last year, accounting for just 12.8 percent of the foreign students in China.
Moreover, 70 percent of those receiving scholarships were pursuing master's or doctoral degrees. China has signed official education exchange agreements with more than 180 countries, under which both sides can send students to each other's countries for further study, the ministry said.
China has been the most popular destination for international students in Asia since 2014. In 2018, the country welcomed 492,000 international students from 196 countries and regions to study at 1,004 universities and research institutes across the country, it said.
Meanwhile, the education authorities have stepped up efforts to regulate the enrollment and management of foreign students.
The ministry punished 18 universities for irregularities in international student admission, certificate issuance for visa applications and on-campus management. Sixteen institutions were stripped of eligibility to enroll foreign students last year, it said.
Xiong Bingqi, deputy director of the 21st Century Education Research Institute, said that as the third-most-popular destination for international students worldwide, China should not give special treatment to international students as it was not conducive to nurturing high-quality talent.
Universities should adopt higher standards for admitting and managing international students if they truly wanted to become world-class universities, he said.