Let the voices of Hong Kong's silent majority be heard: China Daily editorial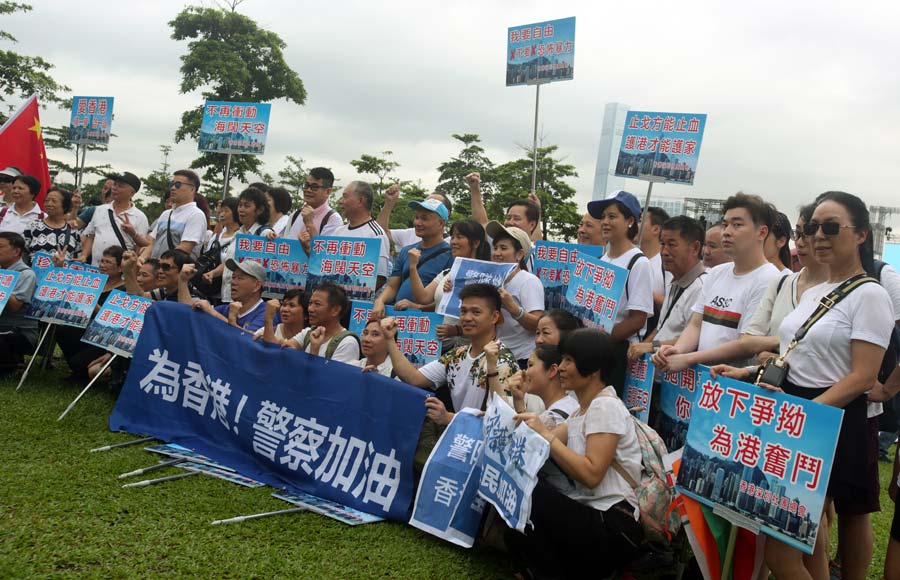 Radical youths in Hong Kong have for weeks made headlines for their violence supposedly in opposition to the region's extradition bill.
Their assaults on police officers, storming and trashing of the legislature and whole-day siege of police headquarters were all carried out in such an unlawful way that the silent majority of the special administrative region (SAR) can no longer remain silent.
More than 300,000 Hong Kong residents of different nationalities and from all walks of life participated in a Saturday rally convened by more than 70 civic leaders representing the business sector, student groups, civic organizations and police associations.
They had one purpose for gathering together: to defend Hong Kong by calling for an immediate end to violence.
The message "end divisions, defend Hong Kong" was read proudly by a young student at the rally held in central Hong Kong's administrative and business center.
The silent majority would rather live their ordinary daily lives – as they are used to – rather than bother with politics, were it not for the danger their home city is facing.
Hong Kong's law and order and reputation as one of the world's safest cities are not the only things at risk. The rule of law – the social value Hong Kong residents cherish most and integral to the SAR's long-term stability and prosperity – is under threat.
The sustained attacks on the very fabric of Hong Kong society by radicals threaten Hong Kong's social stability and economic prosperity. The attacks bode poorly for the livelihoods and wellbeing of everyone living in the city.
The silent majority have realized that this persistent violence is not really targeting the extradition law amendment bill, long pronounced dead and therefore no longer an issue.
The radicals are actually trying to advance their own political agenda by exploiting the controversy surrounding the bill.
Unfortunately some inherently idealistic and impulsive young people, who harbor discontent about social inequality, have been manipulated by these political radicals to unleash violence.
The political radicals are using these young people and taking advantage of their impulsiveness and recklessness.
At a time when the future of their city is threatened by lawlessness, the silent majority of Hong Kong has every reason to come out and defend their home.
Most Viewed in 24 Hours
China Views