How establishing the Shanghai model of waste disposal can be revolutionary
Share - WeChat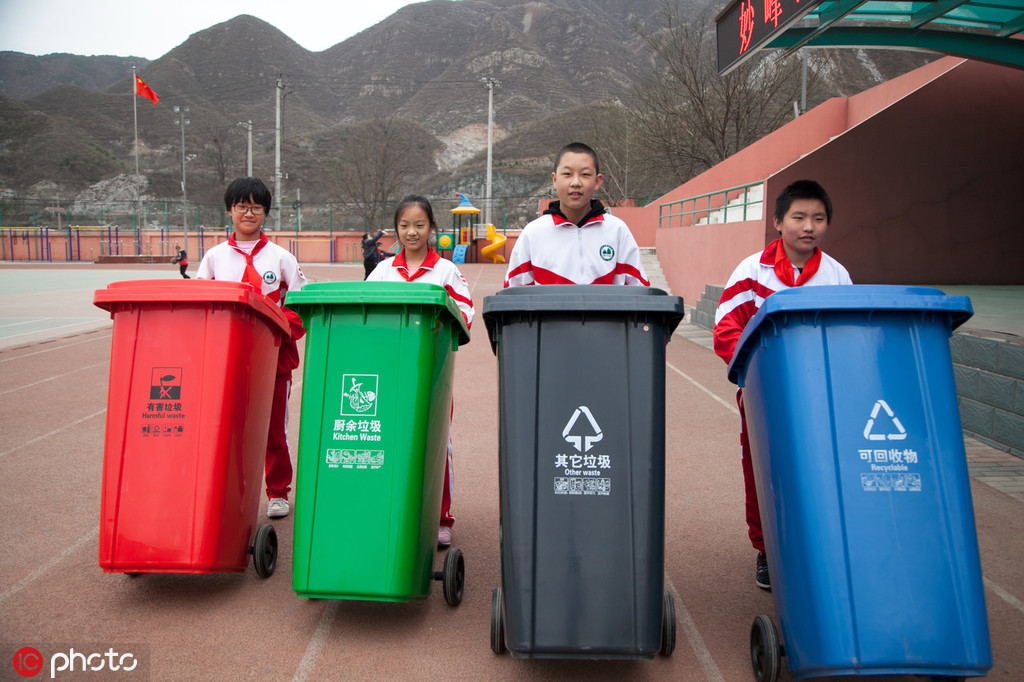 Regulations on the Administration of Domestic Waste in Shanghai came into effect on July 1, 2019.
This shows that Shanghai is carrying out the most ambitious garbage revolution in history, with the topic "Garbage Classification Revolution" in Shanghai becoming a major point of public discussion, attracting media attention at home and abroad.
1. Shanghai's waste classification system: infrastructure and humanism
China has carried out bagged garbage collection since the mid-80s and in 1995 began exploring the classification of garbage.
The Ministry of Housing and Construction in 2000 selected eight major cities, including Beijing, Shanghai and Hangzhou, to classify and recycle garbage.
After 19 years of this pilot, the expected results have not been achieved. Municipal garbage disposal has become a bottleneck problem restricting China's development.
Shanghai is on par with cities like New York, London, Tokyo and Paris when considering its economy and finance, shipping, trade, and science and technology industries.
Today incineration accounts for about 36 percent of Shanghai's domestic waste treatment, landfills about half,, and recycling less than 10 percent.
The figures for London are 40, 30, and nearly 30 percent, respectively, with Tokyo registering about 75, 3, and 20 percent.
Compared with these global first-tier cities, the gap in urban waste classification in Shanghai is not only down to infrastructure, but the humanism of its residents.
2. Shanghai's three later-developing advantages
After entering a new era, Shanghai encountered unprecedented opportunities in domestic garbage treatment, reflected in three later-developing advantages.
(1) Shanghai has the advantage of "overtaking in bends"
Four first-tier cities across the world established modern garbage classification systems about 50 years ago.
These systems were first carried out from the perspective of the circular economy. Shanghai, as a catcher, started to classify and recycle municipal garbage through comprehensive integration.
Today garbage in Shanghai is classified into four categories: harmful; recyclable; organic; and other.
This integrates waste recycling, composting, incineration and landfills, and has the advantage of overtaking in bends. Shanghai for example provides a fixed subsidy for the construction of wet garbage resource facilities.
(2) Shanghai has the advantage of "backward force"
Shanghai's waste treatment sets the maximum capacity of landfill and incineration facilities, reverses the front-end classification collection and resource utilization, and reduces quantity at the source.
The city encourages classification by disposing of organic garbage for free and calculating the cost of other garbage disposal.
Shanghai also promotes quality control and both rewards and punishes district treatment facilities through its garbage treatment fee system.
(3) Shanghai has the advantage of "governance orientation"
Shanghai residents participate in making waste classification a bottom-up action.
Enterprises strengthen market-oriented changes and fulfill their corporate social responsibility.
The integration of waste-sorting networks and renewable-resource recycling networks meanwhile helps accelerate the realization of the urban circular economy.
3. The paths towards garbage classification in Shanghai
(1) Establishing a garbage classification guarantee system
Shanghai should establish a whole-class classification guarantee system covering the three functions of front, middle and end.
The city should exert influence in planning, construction, equipment development, process transformation, preparation, and intelligent sanitation.
For the front end Shanghai should anchor more than 4 million green accounts and build recycling service points in each of its districts. The city should integrate resources collected by the front end of recyclable materials.
At the middle end Shanghai should rely on Hongkou, Huangpu, Changning, Yangpu, Qingpu, other district-level transfer stations and the two container transport bases in Xupu and Hulin to achieve classification, compression, classified transportation and classified transit of domestic garbage.
At the end meanwhile, the city should adhere to the strategic positioning of solid garbage disposal and bottoming protection. It should build the Laogang ecological and environmental protection base and the organic garbage, construction garbage and other disposal facilities in the Songjiang, Qingpu, Jiading, Jinshan, Fengxian and Chongming districts.
Shanghai promotes the classification of urban domestic waste, according to the goal of "reduction, resource, and harmlessness".
Reduction means supplementing and updating classification facilities in Shanghai. More than 40,000 road waste bins in public areas have been classified and labeled, for example.
Using the internet, the integration of waste-sorting networks and renewable-resource recycling networks will be formed, and a "garbage sorting and recycling platform" will be established to form a large-scale map of Shanghai domestic waste with community as a unit.
To this end, a garbage classification reward and punishment mechanism will be established to guide and encourage residents to separate their waste.
The comprehensive coverage pattern of domestic waste classification has taken shape, and more than 70 percent of residential areas achieve the set waste-classification standard.
Shanghai has simultaneously followed the construction period of nine domestic garbage treatment projects and accelerated work on three organic garbage projects and four other garbage projects.
By the end of 2019, the other garbage incineration capacity will reach 19,300 tons per day and organic garbage capacity will reach 5,500 tons per day.
(2) Adhering to the four categories method and forming the Shanghai model
Shanghai's waste classification standard has changed many times.
Today the city's standard is set to the aforementioned four categories of waste.
Regulations on this standard clearly categorize the whole process: units and individuals should be classified at source; property companies should be classified and transferred; receiving enterprises should be classified and transported; and the final disposal enterprises should be classified and disposed.
Clarifying the purpose of the four categories establishes a social responsibility system so that garbage producers, government departments, managers, collection, transportation and disposal units and social organizations can perform their duties and responsibilities.
This is all with the goal of putting in place the Shanghai model of Chinese domestic waste classification.
(3) Forming a system based on the rule of law
Shanghai in 2000 became China's first pilot for municipal solid waste classification.
To ensure the pilot's success, the Shanghai Municipal Government in 2014 issued ten policies and documents.
Laws and regulations are obviously crucial to any waste management system, and on July 1, 2019, Regulations on the Management of Domestic Waste in Shanghai indicated that Shanghai is now in line with the world's first-tier cities in the classification of domestic waste.
Shanghai's per-capita GDP reached $20,000 in 2018, placing the city in the high-income ranks.
To catch up with the world's first-tier cities, build an eco-friendly international city and achieve the goal of less than one kilogram of garbage per capita, Shanghai must enforce its regulations and adopt both restraint and incentive measures.
After more than 20 years' work, Shanghai can take the lead in incorporating garbage classification into the rule of law.
The regulations for example say that people can be fined up to 2,000 yuan for mixed garbage and 50,000 yuan for mixed transportation by units.
The regulations also hold that disposable cups and utensils cannot be used in the Shanghai Party internal office and government organs.
Hotels will no longer provide disposable household necessities or they'll be fined at least 500 yuan and less than 5,000 yuan. Caterers cannot provide disposable tableware – if they do and fail to make corrections within a time limit, they will be fined the same amount.
The author is Shanghai Academy research fellow Center for China and Globalization(CCG) invited researcher. The views don't necessarily reflect those of China Daily.
Most Viewed in 24 Hours
China Views