UK's 'name and shame' effort targets food waste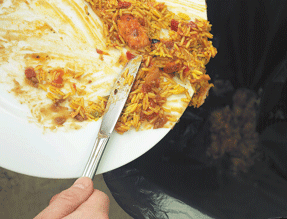 When the numbers are laid out, the problem of global food waste is tough to swallow.
Moral considerations are glaring-people waste about a third of all food produced on the planet each year, according to the charity Waste and Resources Action Programme, while 815 million people are undernourished.
The economic loss is huge. Each year, 1.3 billion tons of food, valued at $940 billion, is wasted around the world.
The environmental cost is similarly concerning: Food waste accounts for 8 percent of global greenhouse emissions.
In Europe-where 88 million tons of food waste is generated annually at a cost of 143 billion euros ($160 billion)-countries are increasingly rallying to tackle the problem.
Vytenis Andriukaitis, the European Commissioner for health and food safety, has described food waste as the "most repulsive side of consumerism", and Michael Gove, the UK's environment secretary, has labeled the issue an "environmental, economic and moral scandal".
Denmark has emerged as a regional leader in terms of waste reduction, thanks in large part to the efforts of activist Selina Juul, whose charity Stop Wasting Food has helped slash annual food waste in the country by 25 percent.
Looking for a protagonist to lead the charge in the UK, Gove recently assigned businessman Ben Elliot to be the nation's food surplus and waste champion.
Elliot is best known as the chief executive of luxury lifestyle group Quintessentially, which provides private concierge services to the world's rich and famous.
His celebrity connections have already borne fruit. Last week, actress Liv Tyler took part in a 300-mile cycle for a food charity, while singer Elton John and author Sophie Dahl have donated at other events organized by Elliot.
But it is his combative rhetoric that has some of the biggest food players in the UK paying attention.
Through an initiative called Step Up to the Plate, Elliot is challenging the food services industry to cut waste in half by 2030. More than 100 companies, including Starbucks, Tesco, Waitrose and Nestle, have signed on over the past month, and Elliot says a further 51 big hospitality companies are "in the crosshairs".
"We are going to name and shame" organizations that are doing a bad job, and also recognize those doing a good job, Elliot said.
Via this initiative and several others, Waste and Resources Action Programme estimates that the UK now leads the world in terms of food waste prevention activity.