3 killed, 10 injured after SUV rams crowd; driver detained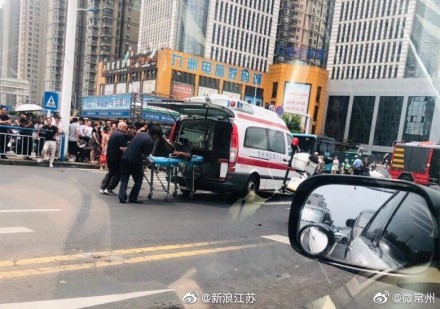 Three people died and 10 were injured in a car crash in downtown Changzhou, Jiangsu province, when an SUV ran into a crowd waiting for a traffic light on Wednesday morning.
The driver of the Black Mercedes-Benz SUV lost control and ran into the non-motor lane for scooters and bicycles near the city's Jiuzhou Digital Mall at 10:47 am, according to the traffic division of Changzhou Public Security Bureau.
Videos and photos on the internet posted by witnesses showed that the SUV also hit several cars and knocked down some guardrails. Some witnesses at the scene said that there were two people in the SUV and the male driver had no smell of alcohol.
The injured have been sent to three local hospitals for treatment. Three were declared dead while hospitalized.
Police said the 35-year-old driver, surnamed Xu, has been detained and that the case is under investigation.
Initial investigation showed that Xu, a vehicle painter, was en route to return the car to its owner after painting it, according to a statement from the police. Xu told the police that he fainted, with bloody froth in his mouth.
The accident-which followed several other serious accidents and a related sentencing that occurred recently-sparked heated discussion on China's social media.
On July 3, a woman who was driving drunk crashed a Maserati into the back of a BMW at a traffic junction, causing the car to burst into flames and killing the two people inside the BMW in Yongcheng, Henan province.
The blood alcohol level of the 23-year-old suspect, who was injured along with her two friends in the Maserati, was 167 micrograms per 100 milliliters of blood, more than twice the legal limit of 80 micrograms. She and her friends in the car will be arrested on charges of endangering public safety.
On Monday, a woman was sentenced to six years in prison in Hangzhou, Zhejiang province, for killing five pedestrians and injuring seven in the city's downtown after losing control of her car last summer. On July 30, the woman, surnamed Chen, wore a pair of slippers and mistakenly stepped on the accelerator instead of the brakes in her car while crossing an intersection. The car crashed into the pedestrians at 132 kilometers per hour.