Bookplates turn a new page at a Tianjin museum
Share - WeChat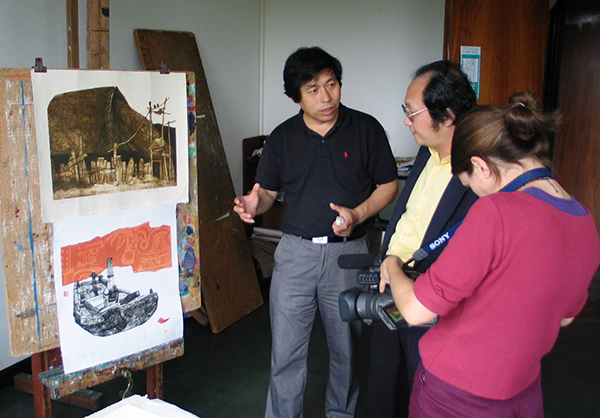 The print art of ex-libris - bookplates that express ownership or one's passion for reading and books - is somewhat niche, and to possess ex-libris represents the owner's high taste.
Some people in some of China's metropolitan cities may have never heard about the art form. But in Hangu, a suburb of Tianjin, ex-libris is known in practically every household. In particular, it is popular among the younger generation.
This is thanks to Liu Shuohai, a 64-year-old local woodblock-print artisan and the founder of China's first ex-libris museum, the Shuohai International Ex-Libris (Graphic) Arts Collection Museum in Hangu.
Founded in 2006, the 1,500-square-meter museum, the largest of its kind in China, has a collection of 20,000 of the world's top ex-libris works.
Works by hundreds of top foreign artists in the field of ex-libris design, as well as collections from 30 countries and regions, have been exhibited at the museum.
Liu was a designer at the Tianjin Arts and Crafts Academy.
He quit his career at the downtown art institute and came back to his hometown on the outskirts of the city to join a local cultural organization in 1979.
He became a bookplate collector by chance.
He joined an international ex-libris conference in 1994 and has been captivated by the art form ever since.
During the event, he managed to collect 700 bookplates in exchange for his own work.
He says that China's woodblock printing was well developed, but the country's artisans had few contacts with Western-style copper-plate etching in the 1990s.
His early collections were appreciated by many insiders of China's art circles.
However, his bookplates soon became dog-eared from constantly being touched, so he got the idea to open a museum dedicated to housing his growing collection.
In 2006, he learned that a local children's library was about to be auctioned off, so he contacted the local government and expressed his desire to open the museum in a bid to boost local art education and international exchanges.
His idea became a reality, and the museum has since grown into a world-class ex-libris art-exchange venue.
The museum was transformed from a children's library, and local children and teenagers frequently come to Liu's museum. This has fanned the fire of interest in the art form among the younger generation of the small coastal town.
The museum and the collection are supported by Liu's own savings.
In the beginning, Liu found himself in debt to friends, who'd helped him with the opening and operation of the museum.
He doesn't make money from the venture.
"It was my passion for the art that inspired me to go ahead," he says.
All the collections at the museum were created through exchanging his own work with foreign counterparts, which also boosted the profile of Chinese woodblock printing overseas.
His work embodies Asian - and in particular, Chinese - perspectives of nature that are highly appreciated by Western artisans. Some of his works have been collected by the International Olympics Committee and former French president Jacques Chirac.
Slovak printmaker Katarina Vavrova, who was invited to exhibit her work at the museum, says while young Slovakians prefer digital prints, she expects that traditional woodblock and copperplate etching can sustain their influence.
Vavrova frequently holds shows in her home country and has hosted exhibitions in Thailand, Turkey and South Korea. She believes that Liu can boost his career in research and art education.
The museum is becoming an international exchange platform, Liu says.
He has close contact with leading artists worldwide and invites them, one by one, to stage exhibitions based on their areas of focus and skill, and invites them to train Chinese enthusiasts.
He is adopting digital media, including WeChat, to boost the influence of the art form.
Most Popular