Planting a cultural seed
Share - WeChat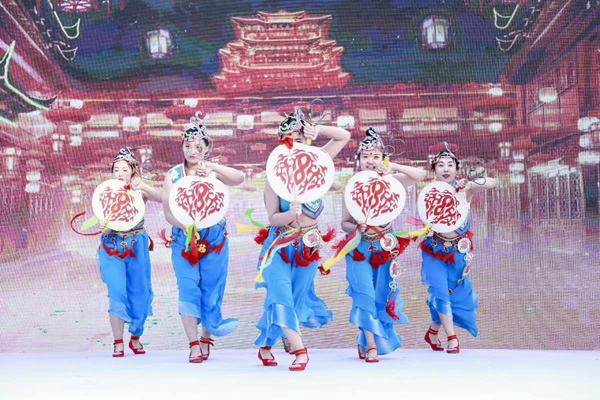 A former cosmetics factory, the Sanlu Plant in Beijing has been repurposed to house, develop and protect the future of China's intangible cultural heritage, Yang Feiyue reports.
A former factory and Beijing landmark has been transformed into an intangible cultural heritage park in the capital's downtown.
Several modern-looking buildings and a big lawn at its heart easily set Yongyuan apart from its hutong surroundings.
Yongyuan park sits on Xingfu Street in Beijing's Dongcheng district where the Sanlu Plant, a well-known cosmetics manufacturer back in the '80s and '90s, once stood.
The Sanlu Plant's Dabao skincare brand was a household name nationwide, and the plant developed more than 100 products in markets such as hair care and fragrances. It contributed over 100 million yuan ($14.57 million) to the economy in the 1990s, making it Beijing's number one taxpayer.
In 2003, the plant's cosmetics production line was transferred out of the city, leaving the land at the center of the capital open for new use.
The Sanlu Plant began its search for a tenant and in 2018, Hong Kong-listed Beijing Capital Land came in and decided to develop its cultural operations.
"The proprietor sympathizes with the concept of the cultural and creative industries, and intangible cultural heritage," says Li Yue, general manager with the intangible cultural heritage platform, which Beijing Capital Land established last year.
Li believes the ambience of the neighborhood makes it the ideal environment for the development of intangible cultural heritage.
The plant covers an area of 14,000 square meters and sits right next to the South Central Axis.
It's about 800 meters away from the iconic Hall of Prayer for Good Harvests at the Temple of Heaven. To the north of the plant's location, there even stands a century-old church.
Remodeling began in September.
"We conducted protective reinforcement of the original architecture, ensuring everything from a piece of wood to a stalk of grass remained the way it was 100 years ago," says Wang Leiming, an employee with the Beijing Capital Land's intangible cultural heritage platform.
All of those old buildings have undergone exterior remodeling and interior refits, but visitors can still touch the old red bricks that are exposed on its surface here and there.
A traditional tile structure was applied to the partitions in the park.