Latest drugs challenge canine sniffers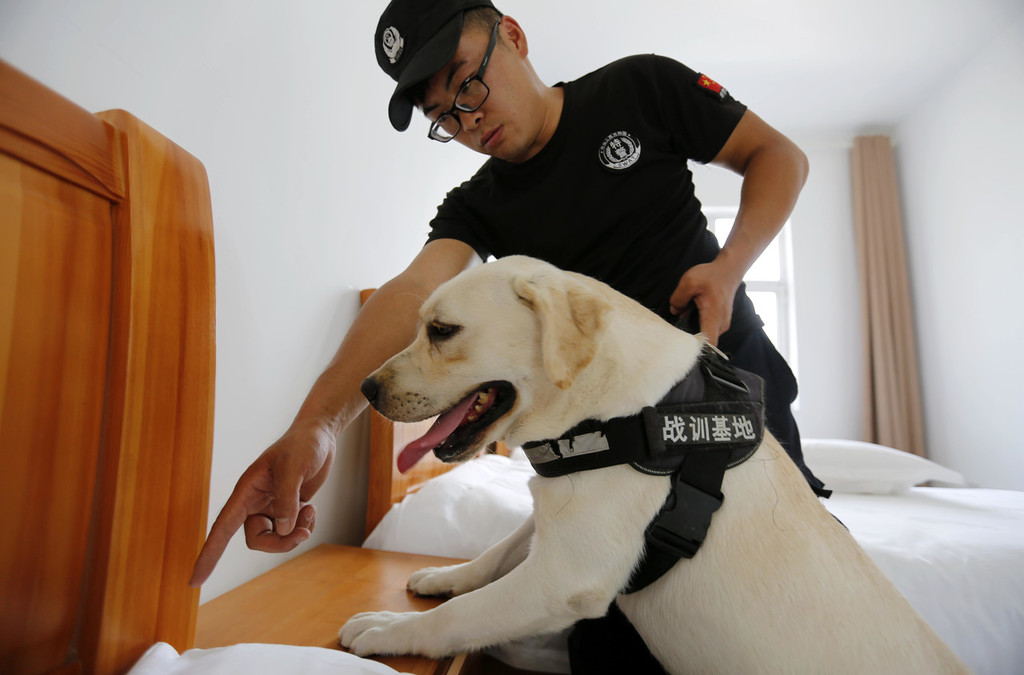 It's not just narcotics officers and lawmakers who need to keep up with the rapid development of new types of illegal recreational drugs, but also sniffer dogs at the General Administration of Customs' canine training center in Beijing.
With dozens of suitcases lined up in two rows on the center's training ground, Fun, a 3-year-old Labrador sniffer dog, takes just 10 seconds to find the one containing drugs.
Fun sits obediently in front of the suitcase while his handler, customs officer Yu Xiaodong, crouches and pats him on the head as encouragement. Yu then uses a rolled-up towel to play a tug-of-war game with Fun.
"Tug-of-war is the biggest motivation for these dogs to work," he said. "By dragging the towel, the excitability of the dogs can be cultivated."
Yu said the dogs rely on their acute sense of smell. "Without unpacking the luggage, the sniffer dogs are faster and more accurate than manual inspections.
"With the emergence of new kinds of drugs, these sniffer dogs need to update their sensibilities to detect the new stuff."
New synthetic drugs including stimulants similar to amphetamines are appearing constantly, according to the Supreme People's Procuratorate. Detecting them has also become more difficult, because a large number of drug dealers no longer carry drugs with them but use the internet to purchase, sell and deliver their inventory.
"In accordance with the different tasks, the detection dogs in customs are mainly divided into six types, aside from detecting drugs," said Li Siwen, an anti-smuggling officer with Beijing customs. "Some are trained to find explosives, tobacco, bank notes and ivory. Our sniffer dogs are capable of identifying more than seven kinds of drugs and their derivatives."
Yu said Fun had been working for more than a year and can distinguish five different types of drugs.
"There are 105 sniffer dogs currently training in the center, and they will serve in customs in different provinces in northern China after a year of training," he said.
The training center for detector dogs in Beijing, established in 1993, is one of three run by the customs administration. The others are in Ruili, Yunnan province, and Shenzhen, Guangdong province.
The training center in Beijing has become the leading breeder and trainer of detection dogs. Since 1995, sniffer dogs from Beijing have helped solve 122 drug-related crimes and confiscate 270 kilograms of illegal substances.
"We are planning to build a new training center for detection dogs in Beijing's Daxing district as Daxing International Airport will be open before Sept 30," Li said.
"Although these sniffer dogs are cute, what I want to emphasize is, please do not tease, pet, feed or take photos with them while they are working at the airport, because these sensitive animals can be easily frightened."