South Korea seeking US help in bitter trade spat with Japan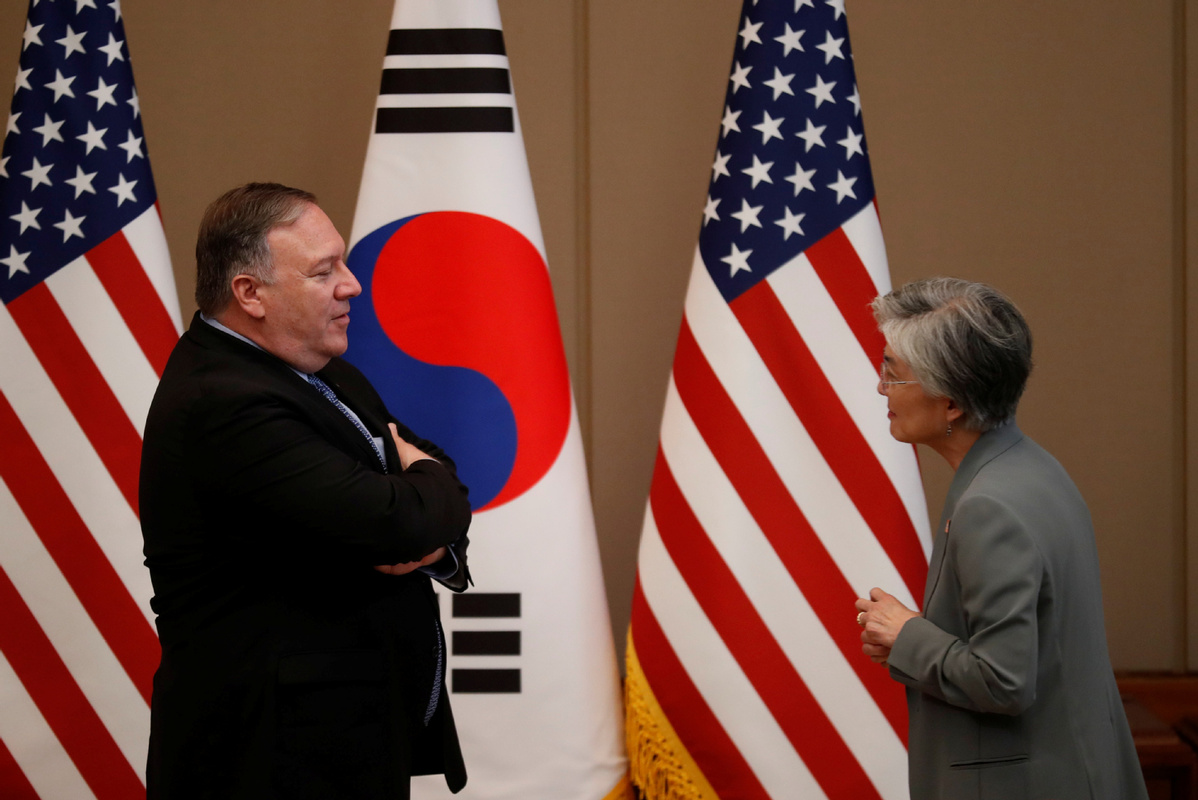 SEOUL - South Korea is seeking help from the United States in a bitter diplomatic row with Japan, another US ally in Northeast Asia, over Tokyo's moves to tighten controls on some high-tech exports.
Seoul said on Thursday that its Foreign Minister Kang Kyung-wha discussed the issue with US Secretary of State Mike Pompeo by phone and conveyed Seoul's view that Tokyo's "undesirable" trade curbs could disrupt global supply chains and hurt trilateral cooperation among the countries.
The South Korean Foreign Ministry said Pompeo expressed an "understanding" of its position and agreed to help facilitate communication through diplomatic channels among Washington, Seoul and Tokyo.
Meanwhile, Kim Hyun-chong, deputy chief of South Korea's presidential National Security Office, arrived in Washington on Wednesday and told reporters he would discuss the trade spat with US officials. His trip came a day after South Korean President Moon Jae-in urged Japan to refrain from pushing the situation to a "dead-end street" and to respond to Seoul's efforts to resolve the matter diplomatically.
Tokyo last week said it would restrict exports of three chemicals vital to South Korea's world-leading chip and smartphone industry in an escalation of a decades-long dispute over Japanese forced labor of Koreans during World War II.
In response, South Korea's ruling party on Thursday called for an extra budget of 300 billion won ($250 million) to help local firms survive the upheaval, more than double what the prime minister had asked for a day earlier.
With Japan so far refusing to negotiate, the news is bleak for top market players Samsung Electronics and SK Hynix.
The two firms supply tech titans Apple, Huawei and Amazon, and together account for almost two-thirds of the world chip market, according to the Hana Institute of Finance in Seoul.
"South Korea is the world leader when it comes to chip-making, and Japan is the world leader in the manufacturing of the key materials for chip-making," said Ahn Ki-hyun, vice-president of the Korea Semiconductor Industry Association.
"With this trade row, Japan and South Korea are both losing the best partners. And neither of them will find good alternatives for a very long time.
"Ultimately, this will bring a stagnation or regression of the world's most cutting-edge technology. The price of gadgets may rise, as chips will likely be in short supply," he said.
Tech companies are already under pressure from a weakening global outlook, while the chip sector is particularly suffering from weak demand.
Japan's new restrictions also apply to the transfer of manufacturing technologies as well as the three chemicals, removing them from a list that effectively allowed expedited shipments.
It means exporters will now have to apply for permission for every batch they send to South Korea - a process that can take up to 90 days each time.
Len Jelinek, executive director of semiconductor research at IHS Markit, warned any reduction or elimination in the availability of the materials would "significantly impede" production.
"Because of the volume of chemicals required within the semiconductor manufacturing process, it is unlikely that the major chip suppliers will be able to find suitable quantities from suppliers outside of Japan," he said.
Japan reportedly produces some 90 percent of the world's fluorinated polyimide, making it difficult for Korean companies to find alternatives elsewhere.
A Samsung official said the company was reviewing measures "to minimize further impact on our production" but declined to comment further.
Another key manufacturer LG Display said it had been testing fluorinated polyimide made in China to see if it can replace Japanese supplies.
Agencies