Shanghai issuing fines for incorrect trash sorting
Share - WeChat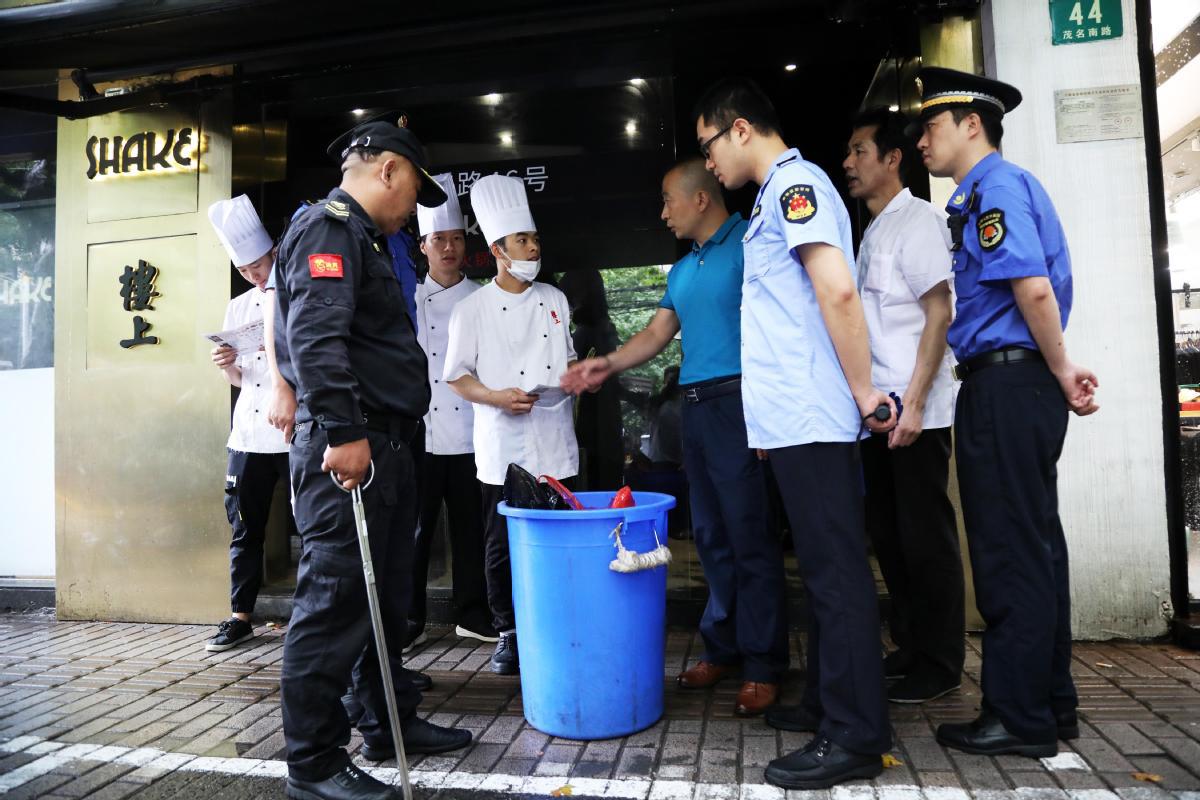 Law enforcement officers in Shanghai have begun issuing fines for trash sorting violations after municipal regulations on domestic waste management were implemented this month.
A total of 190 fines were issued between July 1 and 6, Shanghai's Urban Management and Law Enforcement Bureau said on Sunday, adding that four waste transport companies were fined for not properly transporting the trash.
The bureau told the city's news portal Eastday that it will inspect a further 230 waste transport companies this month to ensure they are not mixing different sorts of garbage.
Zhang Yong, associate professor of environment sciences at East China Normal University in Shanghai, said different types of trash need different treatment measures. If food waste, which can be processed to make fertilizer or biofuel, is mixed with residual wastes, it requires extra work at the treatment center to sort it again, he said.
In August, the bureau will inspect 10 large-scale transport centers and 10 waste treatment facilities in the city.
Local media followed urban patrol officers as they inspected trash compression stations in the city on Sunday. At one small station in Yangpu district, they found kitchen waste mixed with other waste. The officers ordered station staff to correct the situation within three days, according to Jiefang Daily.
Li Zhongjie, deputy manager of Gaojing Environment Sanitation Company, which is responsible for trash transport in Baoshan district, said the regulation gives transport companies the right to refuse to collect waste if they find it has not been properly sorted.
"We will take pictures as evidence if we find the kitchen waste bins contain other trash," Li said. "We will notify the neighborhood's property management company to sort the trash before we come back to collect the trash. Otherwise, it will become our problem if our truck gets refused at the waste treatment center."
Last week, the urban management and law enforcement bureau focused on trash disposal as it dispatched 17,800 officers to conduct 9,600 inspections of trash stations in residential neighborhoods, hotels, shopping malls, hospitals and parks.
The officers stopped 6,704 people from improperly disposing of their trash and educated them about the four categories - residual waste, food waste, hazardous waste and recyclables.
Of the 190 fines that were issued, 15 were given to individuals while the rest were given to institutions.
The bureau added that 62.1 percent of the institutions received fines for not setting up separate trash bins, 35.8 percent for not disposing of trash separately and 2.1 percent for not properly transporting the trash.
According to the new regulations, individuals who do not properly separate their trash face a fine of between 50 and 200 yuan ($7 to $29), while institutions face a heftier fine that ranges from 5,000 to 50,000 yuan.
Peng Yanling, deputy director of the bureau, has said enforcement officers will first focus on education but warned they will punish those who ignore notifications for breaches of the regulation.