Quake damage not as bad as expected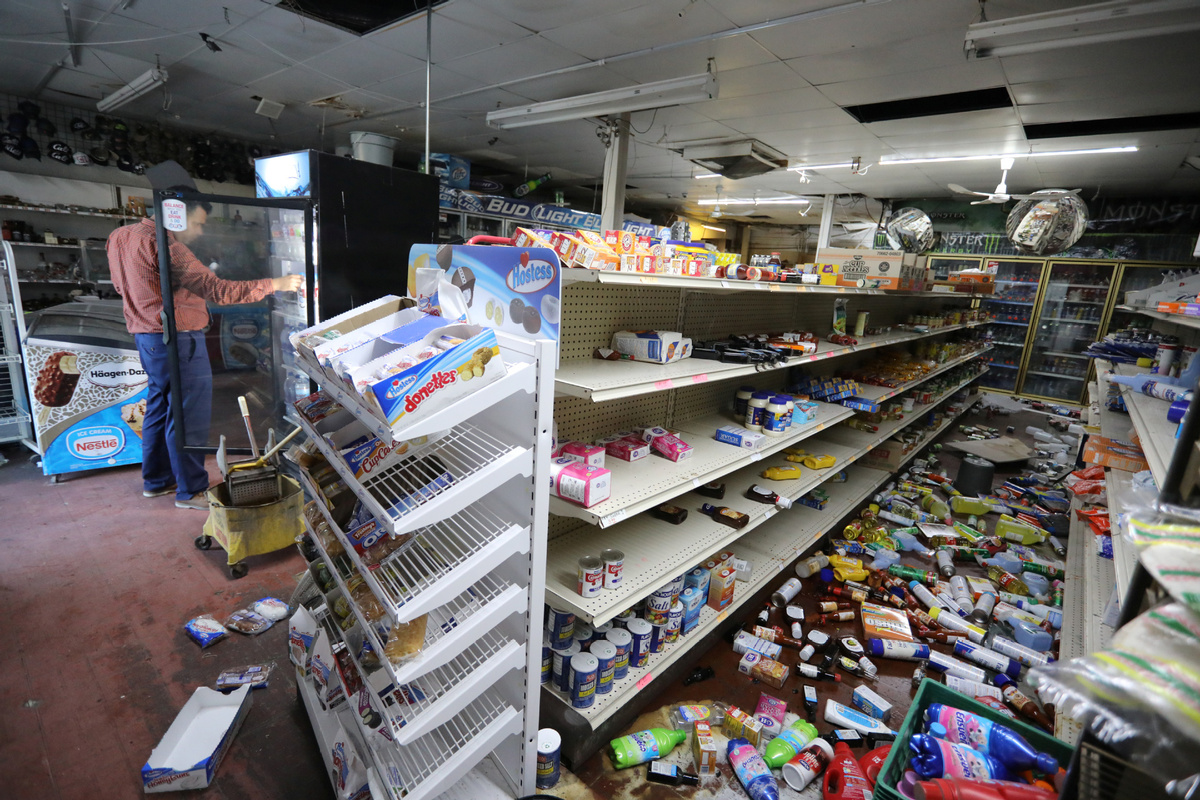 RIDGECREST, California - Officials in Southern California expressed relief on Saturday that damage and injuries weren't worse after the largest earthquake the region has seen in nearly 20 years, while voicing concerns about the possibility of major aftershocks in the days and even months to come.
No fatalities or major injuries were reported after Friday night's 7.1-magnitude earthquake, which jolted an area from Sacramento to Mexico and prompted the evacuation of the Navy's largest single landholding, Naval Air Weapons Station China Lake in the Mojave Desert.
The quake struck at 8:19 pm on Friday and was centered 18 kilometers from Ridgecrest, the same area of the desert where a 6.4-magnitude temblor hit just a day earlier. It left behind cracked and burning buildings, broken roads, obstructed railroad tracks and leaking water and gas lines.
The light damage was largely due to the remoteness of the area where the earthquake occurred, but Governor Gavin Newsom cautioned after touring Ridgecrest that "it's deceiving, earthquake damage. You don't notice it at first."
Newsom estimated more than $100 million in economic damages and said US President Donald Trump called him to offer federal support in the rebuilding effort.
Only 28,000 people live in the Ridgecrest area, which is sandwiched between more populated areas of Southern California and Las Vegas' Clark County. But seismologists warned that the area could see up to 30,000 aftershocks over the next six months.
April Hamlin said she was "already on edge" when the second quake rattled her Ridgecrest home. She and her three kids initially thought it was another aftershock.
"But it just kept on intensifying," Hamlin said. "The TV went over, hanging by the cord. We heard it break. We heard glass breakage in the other rooms, but all we could do was stay where we were until it stopped."
'Great reminder'
With the possibility of aftershocks and temperatures forecast to reach 38 C over the next several days, officials were taking precautions.
The California National Guard was sending 200 troops, logistical support and aircraft, Maj. Gen. David Baldwin said. The Pentagon had been notified, and the entire California Military Department was put on alert, he said.
Naval Air Weapons Station China Lake said in a Facebook post that nonessential workers were evacuated and operations halted. The epicenters of both quakes were on the base, and officials said they are continuing to assess damage. Officials said most employees live off the base and in Ridgecrest, but they authorized the evacuation so those who live on base can be eligible for reimbursements.
The California Office of Emergency Services brought in cots, water and meals and set up cooling centers in the region, Director Mark Ghilarducci said.
Politicians including presidential hopeful Senator Kamala Harris and Congresswoman Karen Bass were among those urging Californians to boost preparedness on Saturday.
"This isn't a drill. Make sure you and your family are ready for the big one," said Bass on Twitter.
But prior to the first quake on Thursday, southern California had been in an "earthquake drought", with nothing measuring above 6.0 magnitude since early 2010.
Following Friday's event, Caltech seismologist Lucy Jones warned there is a 10 percent chance of another magnitude 7.0 or higher quake in the next week.
"People in southern California know that they live in earthquake country, but because they haven't experienced strong shaking in many years they become complacent," said John Bwarie, a Los Angeles-based community resilience expert.
The tremors were a "great reminder" to take action to prepare for the next major event, he said.
"This quake was further away from most Angelenos, they felt it but it wasn't damaging - the next earthquake could be smaller but more damaging in their community."
Agencies