New Beijing resort focuses on relaxation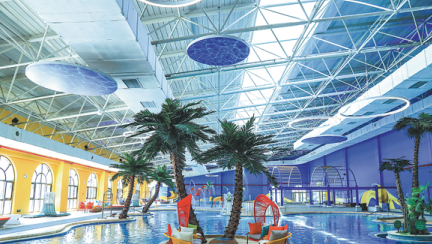 Club Med opened its new resort in Yanqing district of Beijing on Friday, aiming to bring a unique experience for guests to enjoy an idyllic-style vacation.
The resort is Club Med's third on the Chinese mainland and the first in Beijing for its Joyview brand, which focuses on providing short-haul travels for guests.
"As an accessible city escape, Club Med Joyview resorts provide Chinese families, couples and business travellers with premium holiday experiences within easy access of China's major urban hubs," said Henri Giscard d'Estaing, president of Club Med. "With the latest resort, we hope to give our guests a unique and unparalleled holiday experience."
A 90-minute drive from the capital's downtown area, the resort is located alongside the Beijing Songshan National Nature Reserve and is next to attractions including the Great Wall, the Longqing Gorge and Haituo Mountain.
Club Med Joyview Yanqing Beijing is also home to a winery, which stocks French and other international wines. It has a vineyard spanning 44 hectares and is capable of producing more than 50,000 bottles of wine annually, providing guests with opportunities to learn about vineyard-to-bottle production and tasting wine.
The resort also has many indoor recreational facilities, ranging from virtual reality video games, rock climbing and golf to ski simulators, providing parents and children with opportunities to enjoy time together.
In the winter, the resort will open its nearby ski field.
Club Med in China targets family travelers, d'Estaing told China Daily. "We have been working in China since 2003 and have seen fantastic changes over the past years."
In the past, most Chinese tourists just traveled from one site to another, but trends show they focus more on relaxing, enjoying their holiday time and increasing family bonds, the president said. "By providing families with a happy experience, Club Med is no doubt a family holiday ideal," he said.
In celebration of its opening, the resort is offering special discounts - including a 30 percent discount on an all-inclusive package - on bookings made before or on Aug 31.
`