Century-old industrial city joins modern world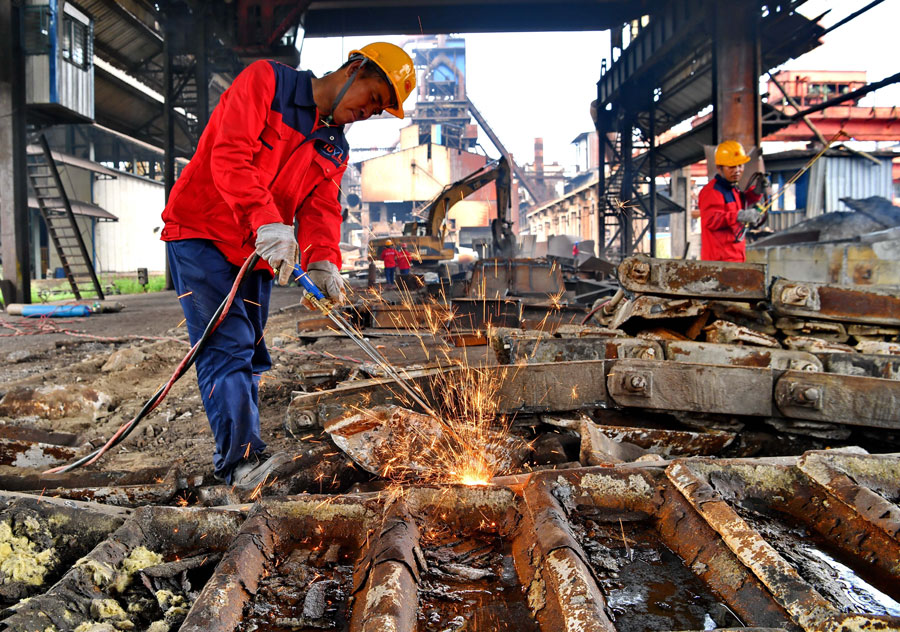 Technology is helping Tangshan, Hebei province, foster emerging sectors and embrace the opportunities presented by 'intelligent production'. Wang Jinye, Wang Hongfeng and Li Laifang report for Xinhua.
With the head sheaves whirling on top of the derrick, the century-old No 1 pit at Kailuan colliery still lifts coal from deep underground. However, the icon of the old industrial city of Tangshan, Hebei province, is now a tourist site.
The shaft, which began operations in 1881 and is the earliest of its type in China, is located at the Kailuan National Mining Park, a symbol of modern industrial heritage that includes the country's first standard gauge railway track.
Culture and tourism are just part of the efforts being made amid the city's diversified development program.
Tangshan, to the east of Beijing, is one of China's oldest industrial bases, featuring the coal, steel and chemical industries. As the country deepens supply-side structural reform in search of high-quality growth, the coastal city is working to upgrade its traditional industries, cut pollution and foster emerging sectors through innovation, investment and integrated regional development.
Structural transformation
In the past seven decades, the Kailuan colliery has produced 1.67 billion metric tons of raw coal and 408 million tons of clean coal.
In recent years, the mine has been facing woefully inadequate resource reserves. "The transformation is pressing," said Zhang Yuliang, a senior executive with Kailuan Group.
In 2017, to promote structural transformation, the company decided to optimize and strengthen its backbone industries - coal, coal chemical and modern services - via advanced equipment and technology, and develop strategic emerging industries, such as new energy and new materials.
"The corporate research team has been developing new coal chemical products to push the industry chain toward the high-end," Zhang said.
The company has piloted intelligent mining with one unmanned working face, conducted mixed ownership reform of its subsidiaries, and gone global with a mine-related service business in India and Kyrgyzstan.
Last year, the company's revenue hit 76 billion yuan ($11 billion), with the coal chemical sector accounting for nearly 25 percent of the total. Meanwhile, profit soared by 146 percent year-on-year, while the logistics services generated revenue of more than 40 billion yuan.
As China made cutting overcapacity one of the major tasks in supply-side structural reform in late 2015, the provincial authorities ordered Kailuan to cut coal capacity by 18.55 million tons from 2016 to 2020 and reduce the workforce by 25,000 people.
"Kailuan encountered difficulties in the first two years of the reform. My salary was sometimes delayed," said Li Wei, who joined the company after graduating in automation from Hebei University in 2008 and is now in charge of the electrical and mechanical department.
"Today's Kailuan is quite different from the past, when my grandfather and father worked here. What it needs is not more labor, but technological innovation."
Intelligent production has also been promoted by HBIS Group Tangsteel, a large steel enterprise founded in the city in 1943. Designed to produce 1.8 million tons of finished products a year, the high-strength automobile plate factory has become a landmark project to upgrade products via intelligent manufacturing.
"We have made big efforts to push technological progress and the upgrading of products through investment and cooperation with institutes and universities," said Wang Lanyu, chairman of Tangsteel, a subsidiary of Hebei Iron and Steel Group, one of the world's largest steelmakers.
Last year, Tangsteel's output of high-end key products reached 5.7 million tons, accounting for 41 percent of its steel products, and the company made a profit of 2 billion yuan. Sales of steel for automobiles and home appliances jointly accounted for 26 percent of its total steel products.
"Through hard work, Tangsteel has developed from a steel plant that used to produce ordinary construction steel into a large, modern, high-quality steel base for automobiles and home appliances," Wang said.