Xi, Trump lift confidence around globe
Share - WeChat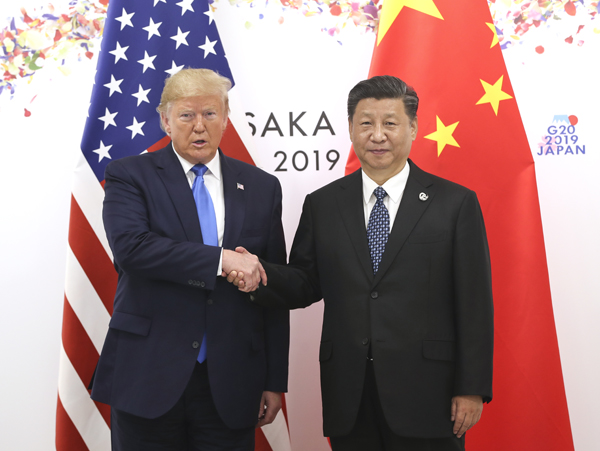 How the two sides resolve issues will be key test, experts say
The resumption of trade talks agreed to by the presidents of China and the United States has injected much-needed confidence into world markets, relieving pressure in a long dispute that has contributed to global economic slowdown.
However, analysts said, pressing the pause button on trade friction between the two countries doesn't mean the dispute has ended, as tariffs on hundreds of billions of dollars' worth of goods are still in place and the two sides still have much to negotiate.
During their meeting on Saturday in Osaka, Japan, President Xi Jinping and US President Donald Trump agreed to restart trade negotiations based on equality and mutual respect.
They also set the tone for the world's two largest economies to jointly advance a China-US relationship featuring coordination, cooperation and stability.
Trump described the 80-minute meeting as "excellent" and "better than expected", and said Washington will not add new tariffs on imports from China. He had threatened to apply new duties to $300 billion of Chinese imports.
For now, the leaders' agreement helps cool the dispute, which had been escalating, and avoid an expansion to a wider range of fields, with the creation of an "economic Iron Curtain", said Shen Jianguang, vice-president and chief economist at JD Digits, a Chinese financial technology group, in an online posting.
Despite the positive takeaways from the presidents' meeting, however, some analysts remained cautious about the way forward to a mutually beneficial trade deal. Exactly how the two sides close the gap will be the real test of any trade truce, they said.
Tom Watkins, an adviser to the Detroit Chinese Business Association, said finding sensible, mutually respectful, win-win solutions to the trade dispute will be good for the people of China, the US and the global economy.
But he added that both sides must proceed with the understanding that no agreement can stand the test of time unless both are invested in its success.
Luigi Gambardella, president of ChinaEU, a Brussels-based international association promoting digital cooperation, said a real end to the trade friction will require great effort.
"Let us hope that there will be one," he said. "The earlier, the better."
Trump also effectively ended the current ban on sales by US companies to Chinese telecommunications giant Huawei. At a news conference after the Osaka meeting, he said US companies could resume selling products, so long as the sales did not involve equipment that threatened US national security.
State Councilor and Foreign Minister Wang Yi hailed the importance of head-of-state diplomacy in China-US relations, saying the consensus reached by the two presidents sent an active and positive message to the international community and global market.
Despite their differences and conflicts, Beijing and Washington can steadily advance their long-term relationship, provided both sides grasp the correct direction of the evolution of relations, expand cooperation based on mutual benefit, manage their differences based on mutual respect and properly resolve problems, Wang said.
Alan Barrell, director of studies at Cambridge Innovation Academy in London, said the resumption of trade talks between China and the US is excellent news for the world at large. "Trade wars are never won — history proves that," Barrell said.
Xi told Trump during their meeting that, despite the great changes in the international situation and in China-US relations, some basic facts remain unchanged: China and the United States both benefit from cooperation and lose in confrontation, and cooperation and dialogue are better than friction and confrontation.
Beijing and Washington have highly converged interests and extensive areas of cooperation, and they should not fall into the trap of conflict and confrontation, Xi said.
Trump said he harbors no hostility toward China and hopes for better relations between the two countries. He told reporters that the US-China trade negotiations are now "right back on track", and the two countries can be "strategic partners".
Jon Taylor, a professor of political science at the University of St. Thomas in Houston, said Trump's expression is significant, since it appears to represent a change in the US National Security Strategy from December 2017, which labeled China a "strategic competitor" and a revisionist power.
Taylor said the positive gestures not only serve to improve China-US relations but also Trump's re-election chances.
Besides discussing the trade dispute, the two presidents also exchanged views on "fundamental issues" concerning their ties and on the major regional and international affairs of common concern, including the Taiwan question and the nuclear issue on the Korean Peninsula, according to a statement released after the meeting.
Han Baoyi, Zhao Huanxin, Hong Xiao and Chen Weihua contributed to this story.