China, Russia, India to strengthen coordination
Share - WeChat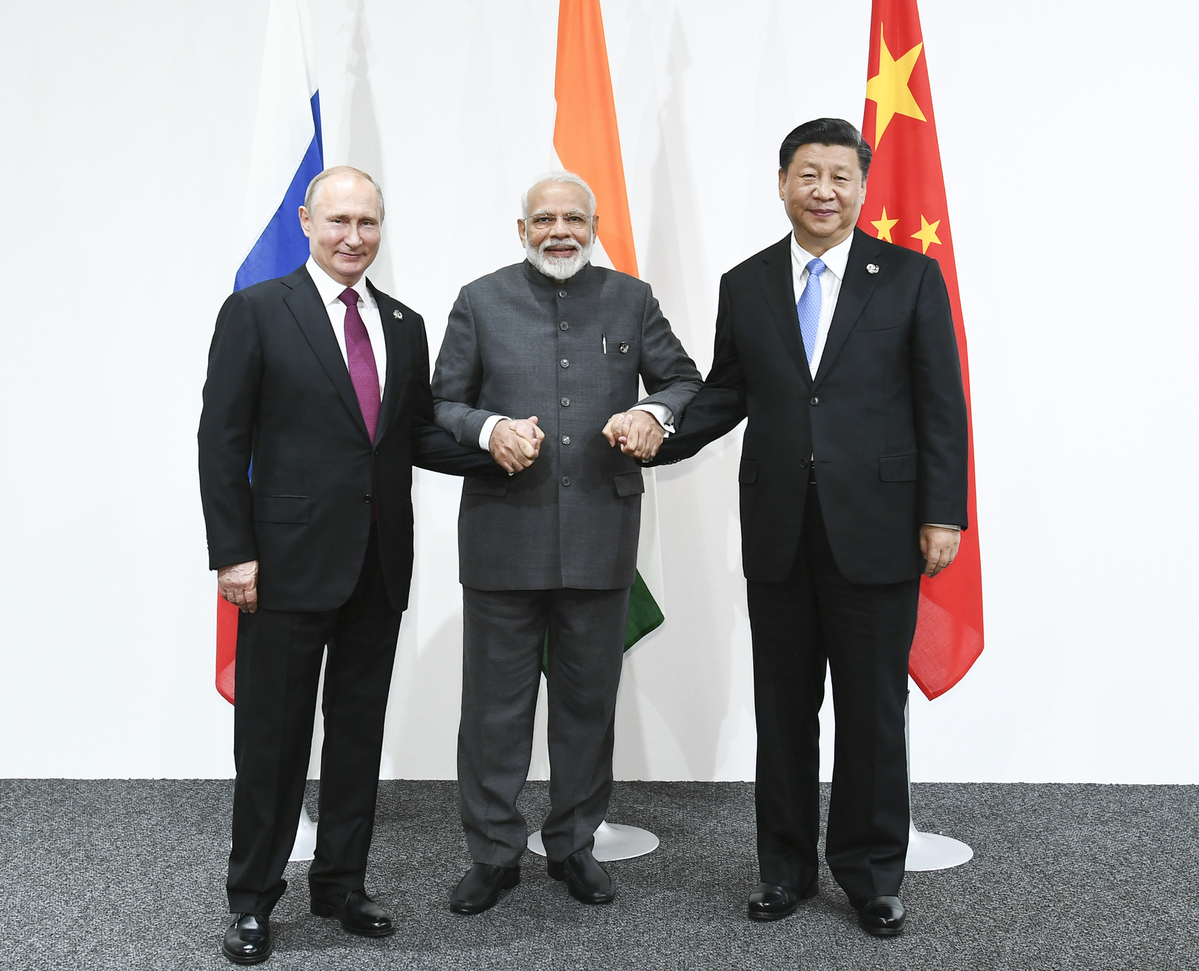 Leaders of China, Russia and India agreed on Friday to uphold multilateralism and the international order to promote peace, stability and prosperity in the region and the world against the backdrop of growing unilateralism and protectionism.
President Xi Jinping, Russian President Vladimir Putin and Indian Prime Minister Narendra Modi vowed to continue to strengthen trilateral cooperation when they met on the sidelines of the G20 Summit in Osaka, Japan.
During the trilateral meeting, they had in-depth exchanges of views about the current international situation and major regional and global issues.
Xi said that rising protectionism and unilateralism severely affected the stability of the global landscape and had a negative impact on the international order, and this greatly affects emerging markets and developing countries.
Beijing, Moscow and New Delhi should assume international responsibilities to safeguard their common benefits as well as the fundamental and long-term interests of the international community, he said.
The Chinese president urged the three countries to press ahead with multipolarization of the world and democratization of international relations, and called for observing the Charter of the United Nations and multilateralism.
He called for building an open global economy that favors better development of emerging market countries and developing nations, expanding trilateral cooperation in 5G technology, high technologies, connectivity and energy, and promoting liberalization and facilitation of trade and investment.
The three countries should also stay committed to the reform of the World Trade Organization based on universal consensus through consultation to address the unbalanced and unequal development of the global economy, Xi said.
Saying a common, comprehensive, cooperative and sustainable security perspective should be upheld, Xi called for political dialogue to resolve hot spot issues, joint efforts to fight terrorism in all forms and a concerted campaign to cope with global challenges such as climate change and cybersecurity.
Putin said that under the current situation, the three nations should firmly remain committed to safeguarding the international system with the UN at its core and remain opposed to unilateral sanctions.
Modi said that upholding multilateralism, international laws and rules conforms to the common interests of the three nations. He underlined the need of trilateral communication in global governance reform, regional security and anti-terrorism.
China, Russia and India have made their united voices heard on major international issues through the leaders' meeting, Wu Jianghao, director-general of the Foreign Ministry's Department of Asian Affairs said at a news conference.
Given the uncertainty and instability of the global situation, Wu said the successful meeting between the three leaders-the second such gathering in seven months-has injected stability and positive energy into the international situation.