China and Japan promise greater foresight, broader vision: China Daily editorial
Share - WeChat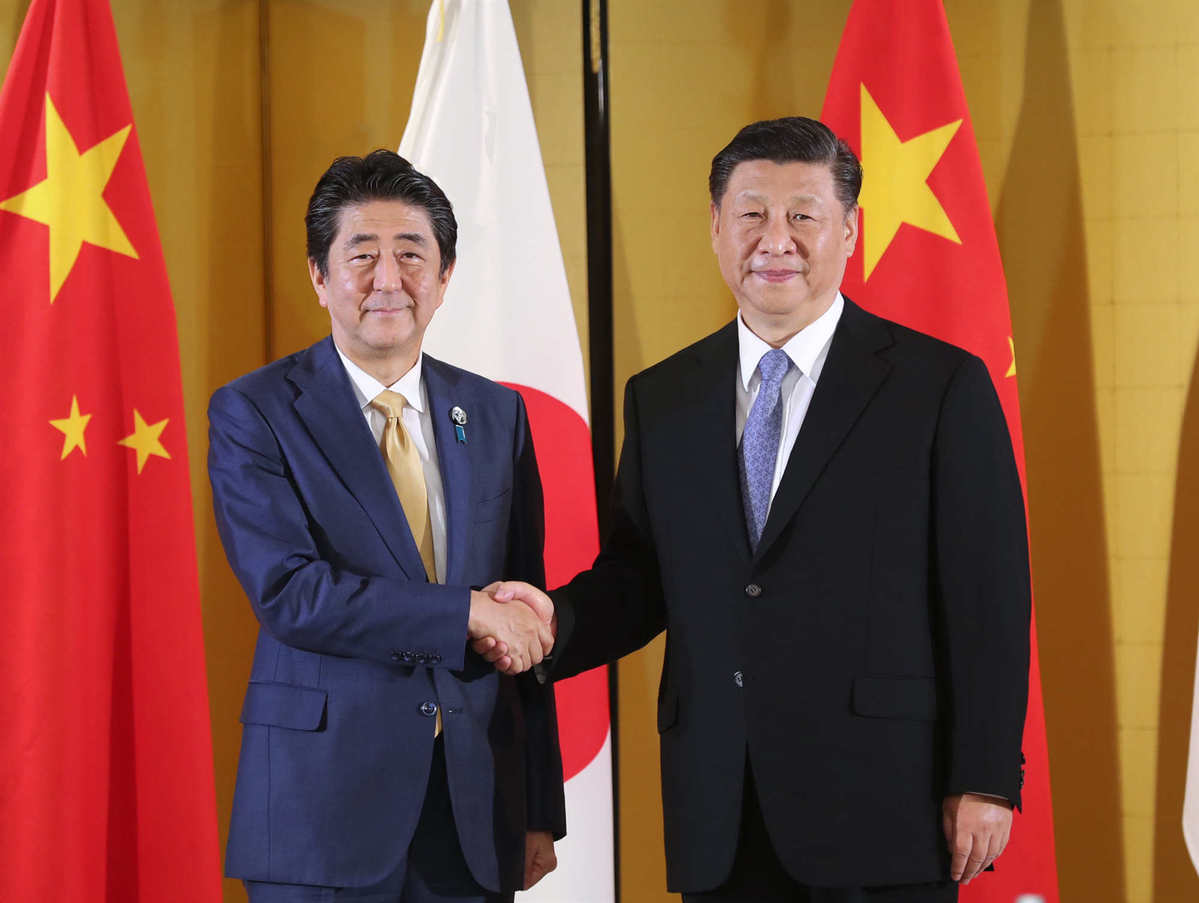 Although it takes about three hours to fly from China to Japan, China's top leader had not set foot in Japan since taking office because of the two neighbors' estrangement over some acute differences on territorial and historical issues.
Yet the amicable atmosphere that prevailed during the meeting between President Xi Jinping and Japanese Prime Minister Shinzo Abe in Osaka on Thursday evening, as well as the fact that Xi agreed in principle to pay a state visit to Japan next spring, sent an encouraging message to the world that the two countries are willing to put their differences aside to address common challenges.
The statement that the two sides have reached a 10-point consensus injected vigor into the relations of the "close neighbors" in the new era, as the world pins high hopes on the G20 Leaders' Summit on Friday and Saturday to tackle daunting challenges.
From the two sides' acknowledgement of the warming of relations to their commitment to the four historical documents — which are the bedrock of bilateral ties — from their willingness to strengthen cooperation on technology innovation to Japan's praise of the China-proposed Belt and Road Initiative, from their reiteration of diplomacy and security dialogues to people-to-people and cultural exchanges, the joint statement is a comprehensive guideline setting the path for the two countries to move forward.
As the world's second- and third-largest economies, China's and Japan's pledge to safeguard multilateralism and free trade is a strong note promoting economic globalization at a time when the world is on the verge of being hijacked by the unilateralism and protectionism of the United States.
The meeting between the two leaders comes at a significant time, not least because Japan entered its new Reiwa era on May 1 and the People's Republic of China will celebrate its 70th anniversary on Oct 1.
The positive upturn in bilateral relations came after Tokyo took concrete actions over the past two years to bring ties with China back onto a healthy track, which has been met with an active response from Beijing.
Economic cooperation and the growth in bilateral trade have acted as stabilizers for relations between the two countries over the past more than 40 years. And both sides attach importance to people-to-people exchanges. China has been the source of the largest number of visitors to Japan in recent years — more than 8.3 million Chinese visited Japan last year, accounting for 27 percent of all foreign visits.
The message driven home by the two leaders is that Beijing and Tokyo will demonstrate more foresight and a broader vision in handling their relations, as both countries realize that Sino-Japanese ties should go beyond friendly diplomatic relations.
Having brought a halt to their estrangement, Beijing and Tokyo now are ready to strengthen their cooperation and coordination, and should work together in defense of multilateralism and economic globalization.
Most Viewed in 24 Hours
China Views