Trump, Kim may hold third summit
Share - WeChat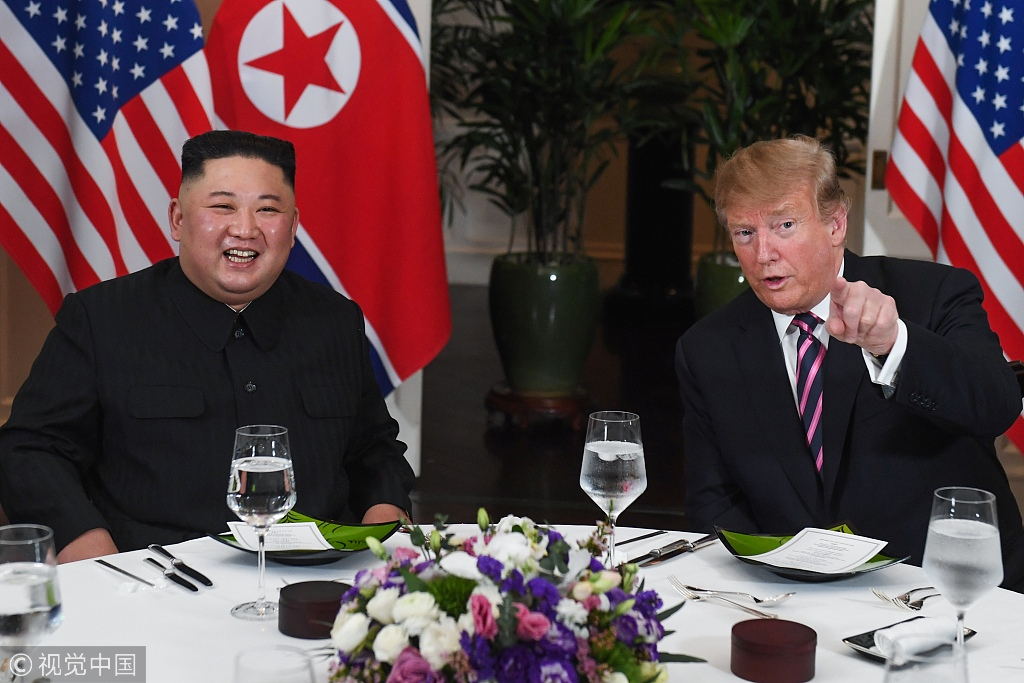 Seoul expresses hope while DPRK dismisses US extended sanctions
SEOUL-The United States is in behind-the-scene talks with the Democratic People's Republic of Korea over a possible third summit, and has proposed working-level negotiations that have been stalled since a Hanoi meeting ended without any agreement in February, Republic of Korea's President Moon Jae-in said on Wednesday.
In written answers to questions submitted by foreign news agencies, Moon said that the willingness of US President Donald Trump and DPRK top leader Kim Jong-un "to engage in dialogue has never faded".
Moon, who brokered talks between Trump and Kim last year, said he doesn't see the Hanoi summit as a failure. He said the meeting served as a chance for both Washington and Pyongyang to better understand each other's positions and "put everything they want on the negotiating table".
"The success of denuclearization and the peace process on the Korean Peninsula cannot be determined by a summit or two," Moon said, adding that discussions in Hanoi will form the basis for future talks. "Both sides clearly understand the necessity for dialogue," he added.
However, Moon didn't elaborate on whether US and DPRK officials had face-to-face meetings. He also didn't clarify who were interlocutors or how close they were in setting up a third Trump-Kim summit.
Despite the deadlocked nuclear negotiations, both Trump and Kim have described their personal relationship as good since they recently exchanged letters. Trump called Kim's letter "beautiful" while Kim described Trump's as "excellent", though the contents of their letters have not been disclosed.
Trump's top envoy on the DPRK, Stephen Biegun, is to visit Seoul on Thursday, and some experts said he may use his trip as a chance to meet DPRK officials.
US Secretary of State Mike Pompeo also said on Sunday that the US was prepared to resume talks with the DPRK "at a moment's notice" if Pyongyang signaled it wanted discussions about denuclearization.
Despite a possible restart of negotiations, it's still unclear whether Washington and Pyongyang can eventually achieve agreements that can satisfy both sides.
Separately from the unofficial US-DPRK talks, Moon said Seoul and Pyongyang have also been holding dialogue via unspecified "diverse channels" and repeated that he's ready to meet Kim again at any place and time.
"History has shown that North Korean (DPRK) nuclear threats diminish when inter-Korean relations are good," Moon wrote.
In yet another reminder of Pyongyang's continued mistrust of Washington, the DPRK's foreign ministry said in a statement earlier on Wednesday it won't surrender to US-led sanctions and accused Washington of trying to "bring us to our knees".
The White House last week extended six executive orders containing sanctions imposed over Pyongyang's nuclear and missile programs by one year.
The DPRK's Foreign Ministry said it "will not hesitate to pull a muscle-flexing trigger in order to defend ourselves" if anyone dares to trample over its sovereignty.
It accused the US of maintaining hostility toward the DPRK. It cited recent US reports on alleged human trafficking and religious crackdowns in the DPRK, and Pompeo's remarks on Sunday that more than 80 percent of the DPRK economy has been affected by sanctions.
Pompeo "let loose a sophistry as if the sanctions are rendering the bilateral talks possible", said the statement, carried by the official Korean Central News Agency.
The statement said all these developments show the "wild dream of the US to bring us to our knees by means of sanctions and pressure has not changed at all but grows even more undisguised."
It said the DPRK is "not a country that will surrender to the US sanctions".
AP/REUTERS/AFP