Guangdong drug seizures top 27 metric tons since 2017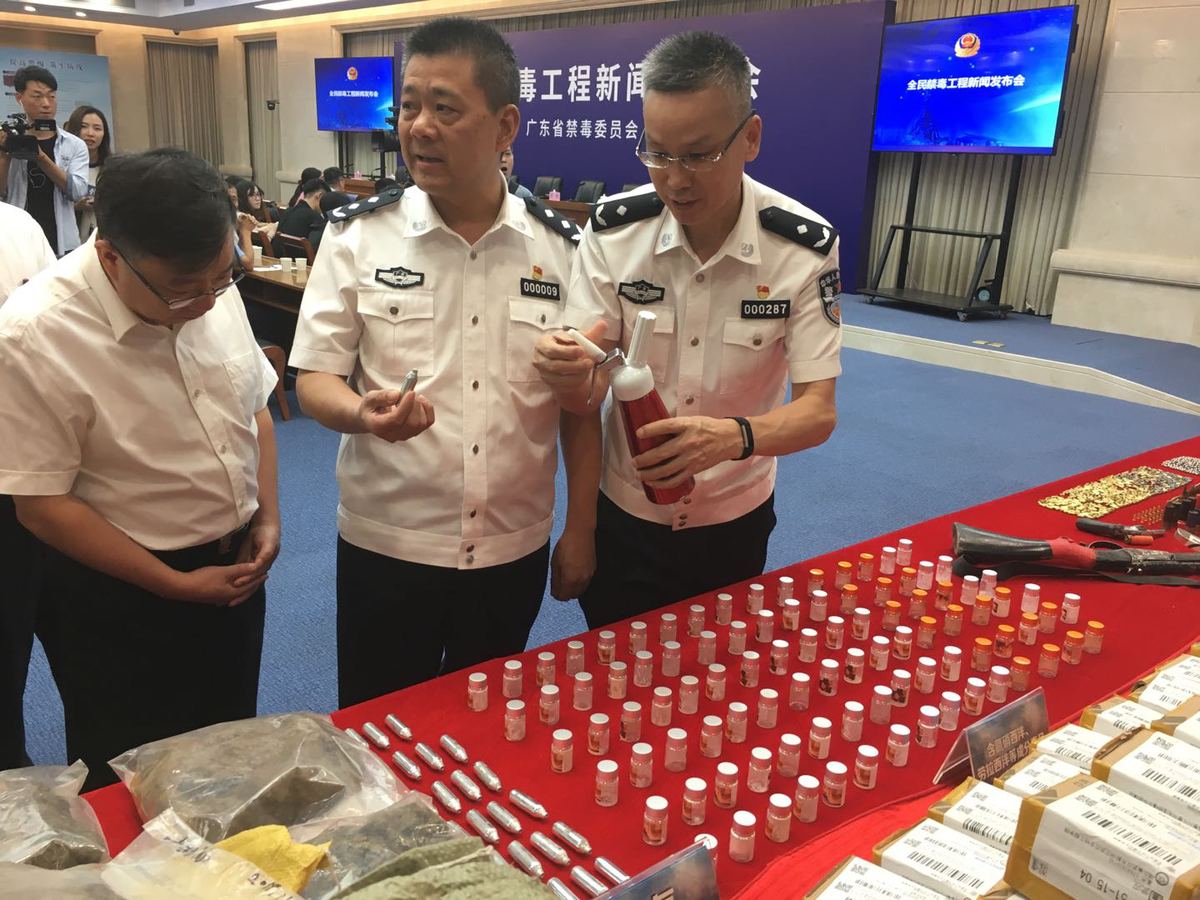 South China's Guangdong province, which for decades has been the country's main battlefield against drug crimes, seized more than 27 metric tons of different kinds of drugs since 2017.
Police across the province cracked down on more than 33,000 drug and related cases, detaining 43,000 suspected drug traffickers, in the previous two and a half years.
Meanwhile police also investigated more than 254,000 drug addicts in the whole province.
In the first five months of this year alone, Guangdong police cracked down on a total of 3,470 drug and related cases, detaining 4,310 suspects.
"The continuous efforts made to fight against drug and related crimes by police in past years has resulted in the reduction of underground drug production dens and the recent price hike of methamphetamine, commonly known as ice, and other drugs in the prosperous southern province," said Lin Weixiong, deputy director-general of Guangdong provincial Department of Public Security.
"The prices for ice have now come to 30 times more than the figures recorded in 2013 in the province's underground drug markets," Lin said at a news conference in Guangzhou, Guangdong's provincial capital, on Tuesday.
Lin said Guangdong's fight against drug and related crimes has achieved progress, with the number of drug cases falling in recent years.
But Lin admitted fighting drug and related crimes is still a long-term and tough task in Guangdong when drug traffickers at home and abroad have yet to stop building Guangdong into a major drug transfer station and distribution center.
He hinted more special campaigns would be launched to fight against drug and related crimes in the months to come to help ensure good social order and to serve the province's economic construction, as well as to build a sound environment for local residents, investors and tourists.
A number of cross-border drug trafficking channels and distribution centers have been busted following a series of special operations launched to fight against the crimes in the cooperation with foreign counterparts earlier this year, Lin said.
In April and May, police from Guangdong and South China's Guangxi Zhuang autonomous region and their foreign counterparts broke up a special channel active in smuggling drugs from Southeast Asian nations to Guangdong's Guangzhou and Dongguan cities via Qinzhou in Guangxi following special operations simultaneously launched in Guangdong and Guangxi.
Police seized a total of 5.65 kilograms of heroin and 15.99 kilograms of other drugs after detaining 32 suspected drug traffickers.
Meanwhile police busted several drug gangs and six underground drug dens, seizing a number of firearms and bullets in the operations.