Police identify woman violently attacked in video
Share - WeChat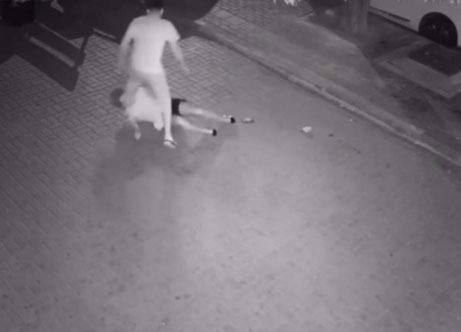 After Chinese police asked the public to help them locate a man who violently beat up a woman in the middle of a street in a piece of surveillance footage, they have identified the woman, who only received minor injuries. The case is being investigated, local police said on Tuesday.
The man's brutal behavior was caught by a surveillance camera in the early hours of Saturday and the footage started to circulate on social media on Monday evening. The incident took place in Dalian city, Liaoning province. The victim surnamed Wu called the police after she was attacked by a man in Ganjingzi district around 1 am on Saturday on her way home, Dalian police said in a statement on Tuesday afternoon.
The 29-year-old has been released from the hospital after being treated for facial soft tissue injuries. The case is being investigated, it said. It didn't say if the attacker had been caught.
In the footage, Wu was seen walking alone while looking at her cellphone. Suddenly, a man walked over to her and started to forcefully punch her in the face with his fists. He then kicked her in the head and abdomen after she fell on the ground. The man also attempted to pull off her skirt. At last, the man dragged her out of the monitoring range of the surveillance camera.
The violence lasted 68 seconds in the footage, which also recorded the sounds when the man threw punches at Wu. She also said "what are you doing" in the footage.
On Tuesday morning, the public order bureau of the Ministry of Public Security asked the public to provide leads on the incident, as there were no clear signs or landmarks to indicate where it took place. Also, the source of the footage remains unclear, the bureau said in its Weibo post.
The bureau added another post around noon again, asking people to provide information about the footage. It also asked the man to turn himself in. Many people started to share in the comments their analysis of the footage based on the accent of the woman, the manufacture of the surveillance system and the environment of the scene. The police responded that they are investigating those leads provided by the public around the country.