Safe water for rural areas a priority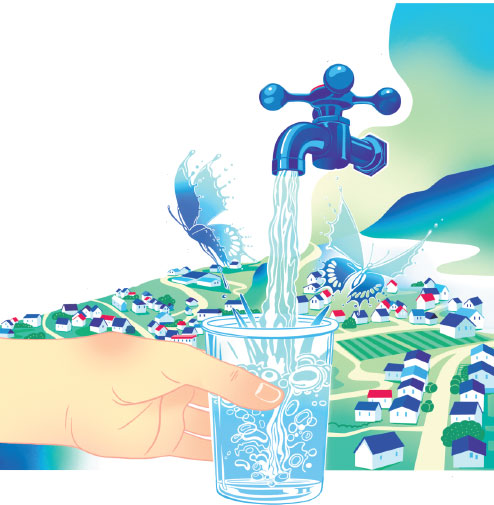 State Council encourages private sector participation in construction and maintenance of facilities
The State Council has laid out specific requirements to ensure rural residents have access to sufficient and safe drinking water.
At an executive meeting on Wednesday presided over by Premier Li Keqiang, it was decided that the construction of rural water supply projects should be enhanced to help 60 million rural people enjoy sufficient drinking water that does not contain excessive fluoride by next year.
As a result of China's efforts to guarantee water supply for rural residents, centralized water supply or tap water are now available to more than 80 percent of people living in rural areas, the meeting was told.
Yu Fawen, a rural environment researcher at the Chinese Academy of Social Sciences, said the government has played a major role in making drinking water widely accessible in rural areas, but "there is a long way to go" to ensure drinking water security.
Yu said many rural areas lacked the funds or the professional staff needed to guarantee the smooth operation of water facilities. That could lead to the early breakdown of facilities, or leave them standing idle, resulting in insufficient water supply.
Liu Baohong, manager of the water supply industry center at the E20 Environment Platform think tank, said waterworks in rural areas were also relatively less capable of dealing with risks to supply.
Compared with those in cities, some rural waterworks were smaller and lacked professional operators, or did not have backup reservoirs, which meant they were unable to provide water during emergencies, such as when pipelines failed or when the reservoir was polluted, Liu said.
The executive meeting also decided there should be a reasonable water pricing and fee charging system for rural areas, and the private sector should be encouraged to participate in the construction and maintenance of water supply facilities in rural areas through public-private partnership arrangements.
Also, the central government and local authorities should grant subsidies to impoverished areas in Central and West China to help them maintain their drinking water security projects.
Liu said the decisions could solve the water facility maintenance issue, as the capital brought by private companies and the fees collected might make up for a possible shortage of funds from local governments.
But the fundamental solution, he said, lies in the development of industries, specifically green industries, such as tourism, to attract people to work and live in rural areas, where they would then use and pay for water.
To achieve that goal, "it is very important to implement the strategy of rural vitalization and channel more talent and capital to the countryside," Liu added.
In order to improve the quality of drinking water, the meeting called for strengthened protection of water sources for centralized water supply networks in rural areas.
On the sidelines of this year's two sessions in March, Minister of Water Resources E Jingping said the ministry is working with the Ministry of Ecology and Environment to regulate and protect water sources, Xinhua reported.
The Ministry of Water Resources had come up with a list of 12,000 rural water sources that need regulation and protection, E said.
Yu, from CASS, said the government is shifting the focus of its efforts from simply providing enough drinking water for rural residents to guaranteeing the quality of the water.
"Drinking water security for rural residents in China will no doubt keep improving," Yu said. "But the pressure to ensure water quality will also increase.
"Industrial pollution is still a serious issue threatening water sources. To tackle that, the government needs to invest lots of effort."