Playing the health card
Share - WeChat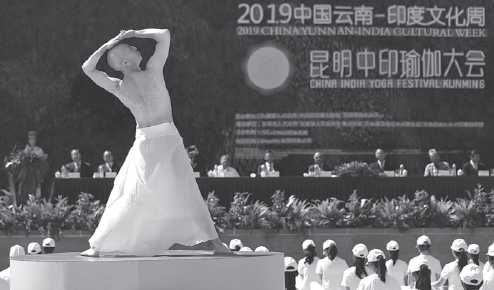 Kunming, Southwest China's Yunnan province, is using its fine weather and cleaner air to promote tourism, Wang Ru reports.
White clouds wander slowly in the blue sky, giving visitors the impression of a crystal-clear yet cool summer in Kunming, Southwest China's Yunnan province.
During the recent China Yunnan-India Cultural Week, which also included the China India Yoga Festival, events were held to promote communication between the two sides.
According to Dai Bin, head of the Kunming municipal culture and tourism bureau: "We are trying to combine health and tourism, and develop tourism that lets you enjoy a healthy life here."
Blessed with good climate, Kunming is called a habitable city with "eternal spring".
Speaking about Kunming's good climate and relatively cleaner air, S.Sridharan, a yoga expert who was invited to take part in the activities, says: "I think these things are a very important aspect of Kunming's health industry. Kunming has clean air, clean water and many plants, and should work hard to maintain them to attract more travelers."
Moreover, Kunming's combination of health and tourism gives emphasis to sports, says Dai, adding: "Kunming's 'eternal spring' means that sports competitions and training can be held all year round."