Stability and new opportunities raising living standards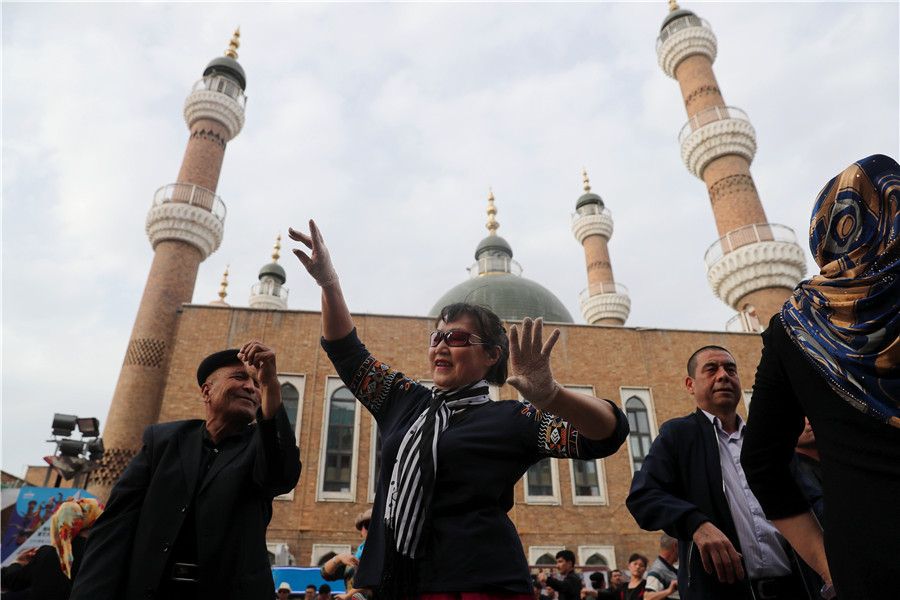 Facilities owned by companies from other parts of China have created jobs and improved people's livelihoods. Zhao Xinying reports from Urumqi.
Editor's note: This is the fifth in a series of stories focusing on the Xinjiang Uygur autonomous region, looking at developments in the economy, the cultural and business sectors, and poverty alleviation measures.
Having benefitted from poverty eradication measures in the Xinjiang Uygur autonomous region, Abdurehman Yimin is now helping more people in his hometown to improve their standard of living.
"I'm trying to expand agricultural production and offer some job opportunities to local people," said the 68-year-old farmer from a small town in Shufu county in southern Xinjiang's Kashgar prefecture.
"I'm also rebuilding three rooms of my house because I hope to open a supermarket to serve nearby residents," he said.
Abdurehman's family, consisting of his wife, two sons and two daughters, struggled with poverty for decades, living on an average annual income of just 5,000 to 6,000 yuan ($720 to $870) made by planting wheat and corn.
"At that time, we lived in a small adobe house where the roof leaked when it rained and dust flew indoors when the wind blew," he recalled.
Things started to change in 2014, when a series of poverty-reduction policies issued by the central government and local authorities came into effect.
Like many villagers in Xinjiang, Abdurehman received a subsidy from the local government. He rebuilt his shabby adobe home with bricks and installed modern conveniences such as a kitchen, a toilet and electricity.
He also bought some agricultural machinery, which helped to greatly raise crop yields.
Now, he plants wheat, corn and red dates, and can earn at least 15,000 yuan a year. Raising livestock, such as cows and sheep, can bring him another 20,000 yuan annually.
If the money earned by his children - some of whom are entrepreneurs, while others work for factories owned by the local government - is included, the family's total annual income exceeds 100,000 yuan, Abdurehman said, adding that the family was officially removed from a list of poverty-stricken villagers four years ago.
Erkin Tuniyaz, vice-chairman of the regional government, said 537,000 people from 513 villages in Xinjiang climbed out of poverty last year.
"More than 475,000 people in Xinjiang's urban areas found jobs with the government's help last year, and the registered unemployment rate was 3.3 percent."
That rate was lower than the national average of 3.8 percent.