Dig out the truth of a murder that had been buried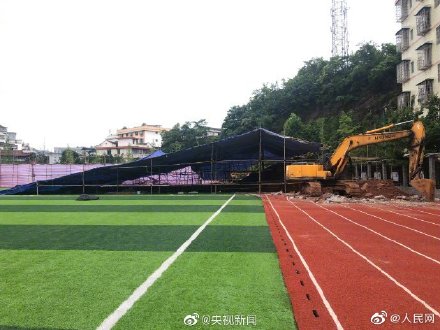 Editor's note: The police in Huaihua, Hunan province, confirmed on Thursday that the remains of a body that were dug out from the playground of Xinhuang No 1 Middle School the previous day were that of Deng Shiping, a teacher of the school who had been missing for 16 years after he complained about the contractor cutting corners in the school's playground renovation project in January 2003. Beijing News comments:
Du Shaoping, the contractor of the project 16 years ago, and nephew of the then headmaster of the school, was detained by the police in April for allegedly being the leader of organized crime in the city, after a member of his gang reported him to the police.
The whistle blower used to be a student of the missing teacher and by accident once heard Du mention that Deng was under the playground and the police would never find him.
Were it not for Du's confession that he murdered the missing teacher and buried him under the playground, the remains would not have been found.
It is noteworthy Du was caught in the ongoing nationwide campaign against organized crime, which, as the gang member who surrendered himself to the Huaihua police said, has exerted mounting pressure on the criminal syndicates. The exposure of the horrible murder is a testimony to the necessity of carrying out such a campaign.
That the then headmaster was detained last week marks a beginning for the police to try to construct a complete chain of evidence in the case. The public suspect that the former headmaster not only received kickbacks from his nephew, but also knew about the murder.
Also, it remains a mystery how the local education bureau, to which Deng appealed, did not react to his complaints, and the officials in charge of dealing with Deng's appeal back then should also be tracked down and investigated for any possible link with the case.
The best comfort for teacher Deng Shiping's family is to thoroughly investigate the case and bring all those involved to justice, not only the murderer but also anyone who provided a protective umbrella.
Most Viewed in 24 Hours
China Views