Beijing charity bazaars help disadvantaged children from poor families in Gansu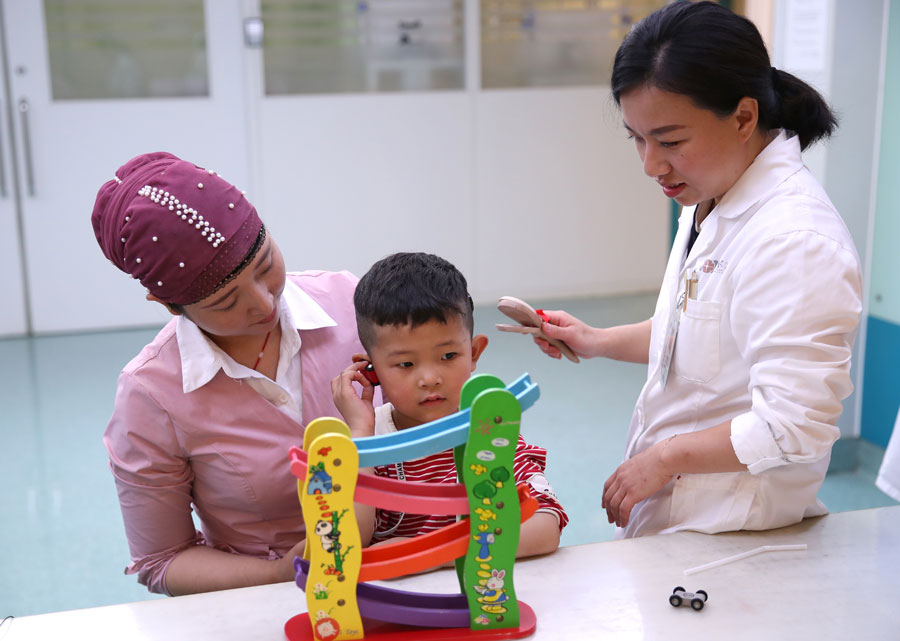 Born deaf in an impoverished household in Northwest China's Gansu province, 7-year-old Wang Xinlian was only able to communicate through simple gestures for many years. As she reached school age, her disability's impact on her learning abilities became too obvious for her father Wang Zhonghui to ignore.
He took her to a renowned hospital in neighboring Shaanxi province and was told a cochlear implant was the only solution.
"But the surgery would cost up to 200,000 yuan ($28,920), I was told," said the 46-year-old farmer, who has little education and also takes up additional work at nearby construction sites from time to time to provide for his family of four.
"I attempted to save up for it, but the plan was shelved after my wife's sudden illness in 2015."
The Wang family was among many households from rural areas that found cochlear implant surgery unaffordable. That delayed treatment, to the detriment of their children's education.
Fortunately, an increasing number are now having cochlear implant surgery in Beijing with funding from Love Knows No Borders, a charity bazaar program launched in 2009 by Le Aimei, wife of former foreign minister Yang Jiechi.
To help the country's most disadvantaged groups, annual bazaars are organized by the foreign ministry, attracting the participation of hundreds of foreign enterprises and embassies.
Participants sell products ranging from Pakistani carpets to Korean pickles at the bazaars, with the money raised from sales and admission tickets donated to projects aimed at improving rural infrastructure, boosting school attendance rates and paying for surgical operations.
In 2016, the Foreign Ministry enlisted the help of the China Foundation for Poverty Alleviation, a major charity based in Beijing, in a bid to boost the program's influence.
The foundation said a charity bazaar in the capital that year attracted more than 7,000 people, including diplomats from 67 foreign embassies, and more than 20 enterprises from home and abroad.
A total of 2.23 million yuan was raised, with the funds used to build bridges in rural areas of the Guangxi Zhuang autonomous region and Yunnan province.
In the past decade, Love Knows No Borders has become a major platform for cross-border charity efforts in China. Last year, 89 embassies participated in the charity bazaar, raising about 6.3 million yuan, with another 400,000 yuan raised online.
The funds will be used to finance more than 100 cochlear implant operations for poor families in Gansu.
Xinlian is one of the recent beneficiaries of the program. She went to the People's Liberation Army General Hospital in Beijing for the surgery in May, and her hearing aid is now switched on.
But the young girl still needs more time to make sense of the sounds she has never heard before.
Her father said they are preparing for a speech course in the capital, also funded by the program.
"I am happy for my daughter, and the surgery has changed her fate forever, and also that of my entire family," he said.
On May 31, Qian Wei, wife of Foreign Minister Wang Yi, and diplomats from 11 embassies paid a visit to Xinlian and some other children from Gansu at the hospital. Qian and the diplomats wished the children good health as they handed out gifts to them.
"Since its launch in 2009, the program has organized many charitable activities in sectors including healthcare, education and infrastructure development in impoverished areas," Qian said.
"It has achieved good outcomes, and is well-received by the public. It has also contributed to China's nationwide poverty relief efforts."