Language lessons with a twist prove popular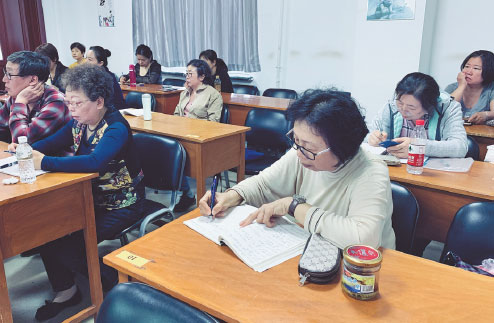 Seniors learn everyday English at classes based on film and TV dialogue
A course teaching senior citizens phrases from English dialogue in films and television series is proving to be a hit at Harbin University for Seniors in Northeast China's Heilongjiang province.
English courses at the university, including basic English language, listening comprehension and conversation classes, continue to be popular, and the new class is kindling renewed passion among elderly students learning the English language.
"Since 2013, I have taught different English courses based on textbooks at the university," said teacher Zhu Guoqiang. "In the past two years, more students said they wanted to learn more practical forms of English to meet new requirements, such as traveling abroad and immigration."
After conducting research and discussing the matter with other teachers, he decided to open a textbook-free course focusing on the appreciation, analysis and practical use of the language.
The class started in March and did not disappoint. It is now at full capacity with 37 students, who must already possess some basic English skills, attending every Friday afternoon. Each student pays 130 yuan ($18.80) for 16 classes.
"I will choose a two-to three-minute video clip from a popular English-language television series or film classic for each three-hour lesson," Zhu said.
"The clips usually contain commonly used words and sentences for everyday use."
After clearly explaining the words and sentences, he will teach his students how to read them using the proper pronunciation and intonation.
The students will then practice dubbing different roles - the most popular part of the class.
Zhu said all his students study hard and have made rapid progress.
"In the beginning, they didn't like opening their mouths to speak out loud," he said.
"After several classes, they became more and more fluent. Now, I can easily see the confidence on their faces."
Wang Hong, a 59-year-old retired college professor from Harbin, started learning the language when she stopped working.
"After retirement in 2014, I began learning English at the university and I have attended almost all the classes," she said.
"The new course is more vivid and interesting, providing us with a whole new way of learning English."
A travel enthusiast, Wang has visited more than 20 countries around the world.
"Continuing to learn English is a great help for my journeys," she said. "Good communication with foreigners can help reduce my nervousness, and I gain more joy during my travels.
"Furthermore, I have made lots of like-minded friends in the class. We can talk about our English learning and plan to travel together."
For retired businessman Yuan Yanbo, an embarrassing encounter in Canada prompted him to decide to improve his English proficiency as soon as possible.
"While visiting my daughter, who started working in Canada last year, I took a driver's license exam," the 57-year-old said. "When a local official asked me a question, I couldn't speak a word, even though I understood that he was asking for my birth date.
"Before that, I had been abroad several times for business or travel. But thanks to the accompanying translators, I had absolutely no concerns about communication with foreigners.
"However, in the future, I may spend more time living abroad without help from a translator. Thus, I have to become a good English speaker."
Yuan said his enthusiasm for films and the classes had been high ever since he watched a video clip of the Hollywood movie Catch Me If You Can during the first class.
"Almost all my classmates have now gotten into the habit of watching a full-length film or a television series after class, even though few of us had watched foreign language films before," he said. "Apart from greatly improving my vocabulary and spoken English, I can also gain some knowledge about the culture and customs of some English-speaking countries, which may be of great help to me in the future."
Zhu said he is happy with his students' progress in class.
"I am proud that my senior students all study it positively and actively," he said. "They can concentrate in class and take notes carefully.
"Moving forward, I hope to organize a dubbing performance, and I believe they can deliver a perfect one."