Engineering link-up heralds new era for China and Italy
Partnership 'can be an example to businesses'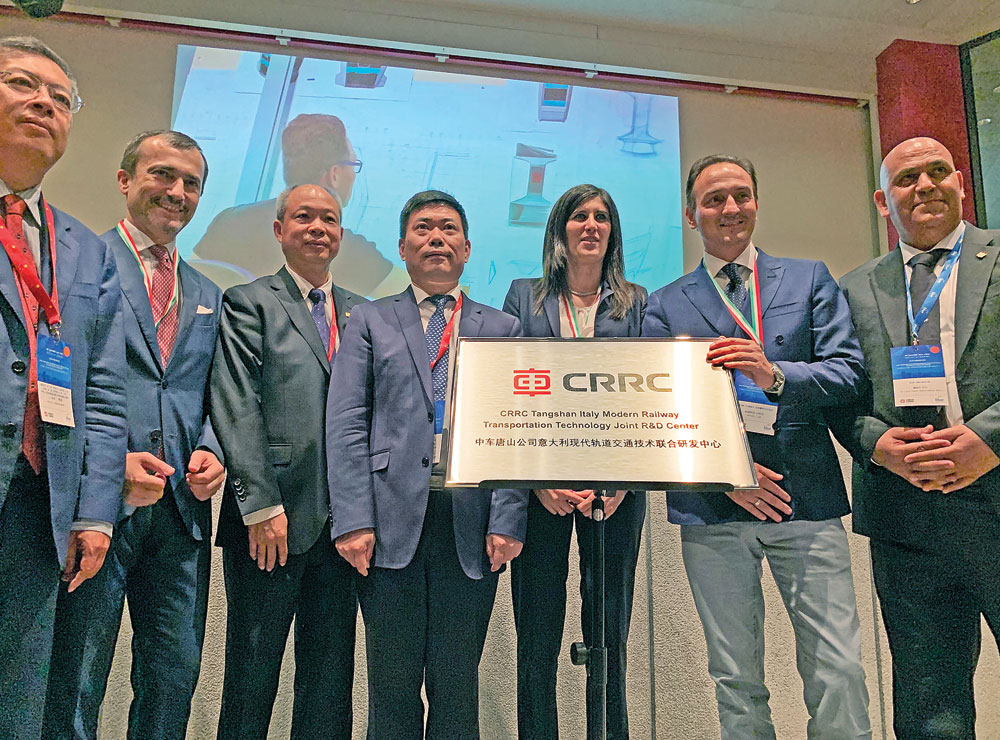 When 27-year-old Mohamed Eid and three friends started the Blue Engineering company in 1993 in the Italian city of Turin, their dream was to see it grow into the world's best engineering and design company.
Despite the deep crisis of the Italian economy in the early days, Blue, an acronym of the family names of the four partners, over subsequent years thrived in the fields of automotive, railway, aerospace, marine and information and communication technologies.
In 2016, the company received a major injection when three Chinese companies–CRRC Tangshan Co Ltd, China National Transportation Equipment and Engineering Co Ltd, and GenertecItalia invested in Blue, taking 60 percent, 15 percent and 5 percent of stake respectively.
Eid, Blue's CEO, described the link-up with CRRC, the world's largest passenger train manufacturer, as being like what happens when two chemicals are put together. "Individually it's not so effective. When put together, you have a very good reaction. That is what's happened," he said.
In Eid's words, CRRC gave Blue "the very fantastic reaction to be the best engineering company in the world"and in return Blue gave its "advantage of technology" to CRRC.
Blue Engineering's design products are now used in more than 30 countries, from railways, subways and automobiles to ships, planes and planned Mars exploration.
On Tuesday, CRRC and Blue Engineering joined hands in unveiling the CRRC Tangshan Italy Modern Railway Transportation Technology Joint R&D Center in Turin, the home of Italy's auto design industry.
"Our dream has come true this year,"Eid told spectators at the ceremony. He said the company, as a subsidiary of CRRC, is like riding in a Ferrari. "We hope to go very far," he said.
Eid believes the venture could help CRRC enter the European market. "We can be their door or window for Europe," he said.
Besides its powerful research team in China, CRRC has already set up R&D centers in countries such as the United States, Germany, the United Kingdom, Sweden, South Africa and Turkey.
Wang Jun, vice-president of CRRC, described the technological cooperation with clients and research institutes all over the world as "win-win and mutually beneficial".
He said the R&D center launched in Turin will help give new momentum to Italy's development by providing better job and more development opportunities.
"We will make the R&D center into a role model for sharing the benefits of cooperation between Chinese and Italian businesses," Wang said.
Chiara Appendino, the mayor of Turin, echoed Wang's view, saying the link-up could be a role model for Turin to attract more businesses to the city.
"We are witnessing cooperation between two large technologically advanced companies," she said. "At a local level, we all have the responsibility to contribute to the Chinese-Italian relations."
Guido Saracco, rector of the Polytechnic University of Turin, one of Italy's top engineering schools, said he was proud that many engineers at Blue Engineering graduated from his university.
He recalled the Chinese coming to Turin 30 years ago as mainly being people running restaurants, and said what impressed him then was the lazy Susan, a rotating tray placed on a dining table.
"China has developed rapidly in the age of globalization and CRRC has become the largest high-speed train maker in the world," he said.