Northern Ireland seeks Chinese investment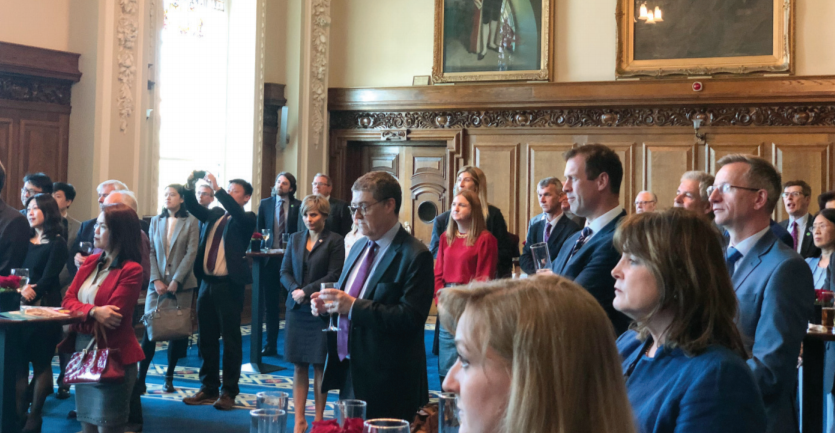 Increased tourism and trade can have major economic impact on region
Northern Ireland is keen to forge stronger links with China as the benefits of economic ties with the world's second-largest economy are felt across much of the region.
Robin Newton, speaker of the Northern Ireland Assembly, said China's sizeable market potential provides tremendous opportunities to business in Northern Ireland. He said trading with China is about developing enduring partnerships.
Newton cited the example of a Northern Ireland businessman who spent a decade building up a relationship with China and who is now exporting to the country every week.
"I think, if we are going to do business, then we need to do business over a long period of time," he said. "We need to build a business from a sound foundation where there is a profit to China and where there is a profit to Northern Ireland."
Between 2016 and 2017, Northern Irish companies grew their sales to China by 54.4 percent, from 103 million pounds ($130 million) to 159 million pounds, according to Invest Northern Ireland, the regional economic development agency.
In 2017, 81.6 percent of Northern Irish exports to China were from the advanced engineering and manufacturing sector, and 9.9 percent from the life and health sciences sector.
"The role of China in Northern Ireland is huge," said Steve Harper, executive director for international business at Invest Northern Ireland. "We see a fantastic opportunity, not just for our companies to trade with China, but also to try and attract some direct investment from China."
Harper said one of the key attractions for Chinese companies investing in Northern Ireland is the quality of the workforce and its high level of education. Northern Ireland has Europe's best-performing education system for primary math and its second best for primary reading.
In recent years, two companies in Northern Ireland have been bought by major Chinese corporations. In 2016, the Aviation Industry Corporation of China acquired Thompson Aero Seating, which counts Qantas, American Airlines, and Aer Lingus among its customers. And, also in 2016, the China-based global trailer manufacturer CIMC Vehicles bought one of Northern Ireland's largest manufacturing companies, Retlan Manufacturing.
Harper acknowledged that Northern Ireland lags behind other regions in the United Kingdom in some ways and said that fact makes it more important "for us to get out there to sell the message". Invest Northern Ireland has four offices in China with 10 people active on the ground in promoting the region.
The links between Northern Ireland and China have strengthened since Northern Ireland opened a Beijing bureau in 2014. And, in 2015, the Chinese government opened a consulate general in Belfast.
Zhang Meifang, the consul general in Belfast, said the UK's departure from the European Union makes companies in Northern Ireland more willing to develop ties with China.
"We are entering into a very crucial stage of Brexit, which really makes people from all walks of life in Northern Ireland have a strong desire to develop with China, to diversify their trade and business opportunities."
She said China could enter into deeper cooperation with Northern Ireland in advanced manufacturing, the digital economy, the knowledge economy, life sciences, and vocational education.
This year marks the 65th anniversary of the establishment of diplomatic relations between China and the UK at the charge d'affaires level, and the fifth anniversary of the establishment of consulates in Belfast and Wuhan. A series of events are planned to promote ties in economic, trade, educational, and cultural aspects, Zhang added.
Zhao Jun, chairman of Inner Mongolia Europe Entrepreneurs Society, who has been on a trade visit to Northern Ireland, said the province is a good fit for companies from China's Inner Mongolia autonomous region.
"The place is underdeveloped compared to England and Scotland, but it is one of the most cost-effective places in the UK, which means it offers great investment opportunities." Zhao said of Ireland. "Chinese companies that invest can benefit from the lower costs while enjoying similar developed technology."
Northern Ireland is also becoming a hotspot for tourism from China, especially after it became known that some of the HBO series Games of Thrones was filmed there.
Last year, one tourist in every six who visited Northern Ireland was attracted by its association with the series, which boosted the economy by 50 million pounds.
John McGrillen, chief executive of Tourism Northern Ireland, said more than 100,000 Chinese visitors toured the region last year.
"The top destinations for the Chinese are Giant's Causeway, and almost two-thirds of all Chinese people who come here go to visit there," McGrillen said. "They are also very interested in Titanic Belfast, where the Titanic ship was built. I understand that Titanic is very widely known in China, so they have a very specific interest in coming to the Titanic Belfast, learning about the ship and its very short but famous history."
McGrillen conceded the big challenge lies in making Chinese people aware of how much there is to see and do in such a small region.
He says Northern Ireland is condensed, like "espresso coffee".
"It's small but really packed with lots of things to see and do … everywhere is very close," he said.