Japan's Abe seeks to mend US-Iran ties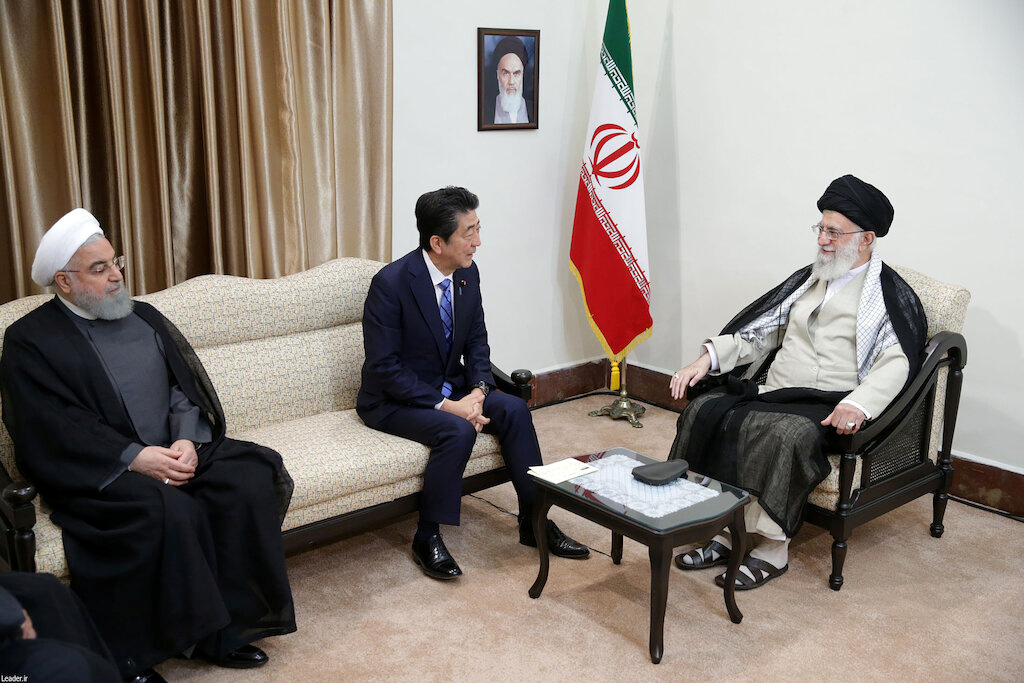 Rouhani says Teheran will continue to comply with landmark nuclear accord
Iran welcomed Japan's support of a 2015 nuclear accord as Japanese Prime Minister Shinzo Abe paid a visit amid rising Iran-US tension and vowed to ease the nerves.
Abe began his visit to Iran on Wednesday, the first by a Japanese prime minister in 41 years, with the stated aim of defusing tensions between Teheran and Washington, Agence France-Presse reported.
Abe said in a joint news conference late on Wednesday that peace and stability in the Middle East are of high importance for the world and Japan can play a crucial role in the field.
"Based on traditional friendly relations between Japan and Iran, I would like to have candid exchanges of opinions (with the Iranian officials) toward easing tensions," Abe said, adding that tension in the region should be curbed at any cost.
He also welcomed Iran's cooperation with the International Atomic Energy Agency as positive and expressed hope that Teheran would continue to act within the framework of the 2015 nuclear deal in the future, according to Iran's Press TV.
The deal, also known as the Joint Comprehensive Plan of Action, was signed by Iran and six major powers: China, Britain, France, Germany, Russia and the United States.
However, US President Donald Trump announced US withdrawal from the landmark deal in May 2018 and restored sanctions against Teheran.
Iranian President Hassan Rouhani said Iran is happy to see Japan's backing of the deal and publicizing its significance to the region and world. He also said that Iran was willing to remain in the deal, and the country welcomed cooperation with Japan in peaceful nuclear technology, stressing that both countries opposed nuclear weapons.
Lu Hao, a researcher from the Institute of Japanese Studies at the Chinese Academy of Social Sciences, said the friendly relationship between Iran and Japan may help to mediate between Iran and the US.
"Japan hopes to temporarily ease the tension through its coordination, avoiding plunging the regional situation into unease or escalating the confrontation or any possible armed conflict," he said.
This year marks 90th anniversary of the two countries' diplomatic relations. Lu said what Japan can offer is considerable attention to Iran's current security and economic development, and to provide financial assistance to ease Iran's concerns about the future.
"In our meeting, Mr Abe said that Japan was interested in continuing to buy Iran's oil," Rouhani said during the joint news conference with Abe, broadcast live on state TV. Abe did not mention that Japan suspended purchases last month.
Japan stopped importing Iranian crude oil to comply with new US sanctions against Iran.
Over the past decades, Iran has been a supplier of crude oil to Japan. Before the US initiated sanctions against Iran in 2012, Iran had provided up to 15 percent of Japan's oil demands, according to Xinhua News Agency.
In 2018, Saudi Arabia topped the crude exports to Japan by approximately 68 million kiloliters.
The United Arab Emirates ranked second by importing about 45 million kiloliters to Japan. Other regional countries, like Qatar, Kuwait, Iran, Bahrain, Oman and Iraq together added roughly 40 million kiloliters to Japan's crude imports.
However, Lu said Tokyo is unlikely to accomplish much within such a limited time or to find any practicable measure to calm the US and Iran.
Abe also met Iran's supreme leader Ayatollah Ali Khamenei on Thursday. Khamenei said Iran will not repeat its "bitter experience" of negotiating with the US, Reuters reported, as Abe was carrying a message to Iranian leaders from Trump.