Huawei ban could jeopardize Chinese investment in UK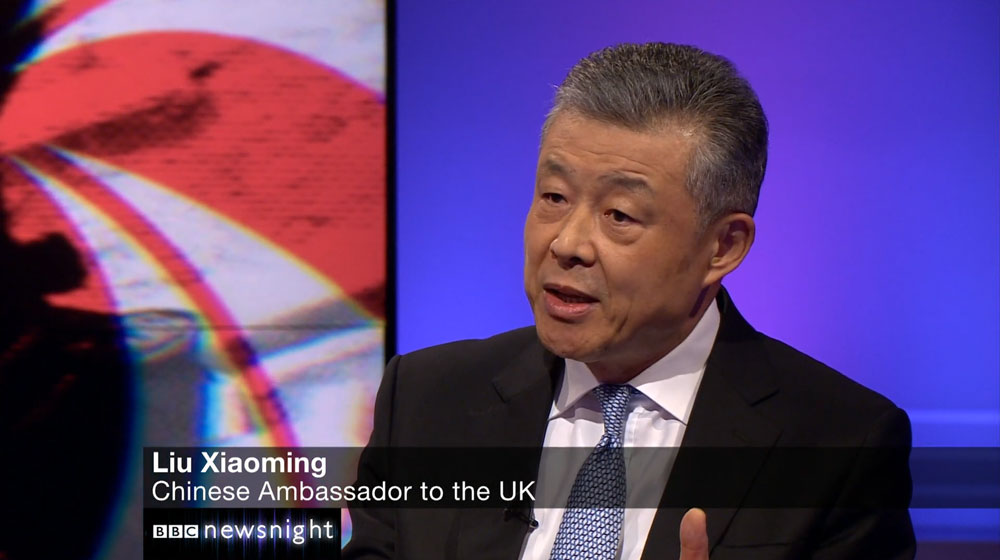 China's ambassador to the United Kingdom, Liu Xiaoming, pointed out that a British ban on Huawei 5G network equipment would send a "negative message" to other Chinese companies considering investments in the UK.
In a televised interview with the BBC on Wednesday, Liu said that if the UK government joins a United States-led boycott of Huawei, Chinese companies would begin to question if Britain is open for business.
"I think it will send a very bad message, not only to Huawei, but also to Chinese businesses," Liu said. "Will the UK remain open? Will the UK still be a business-friendly environment for Chinese companies? It will send a very bad signal, not only on trade, but also on investment."
Nations across the globe are in the process of updating communications infrastructure from 4G to 5G, which is the fifth and most advanced generation of mobile network technology.
The US has put pressure on the UK and other allies to ban the use of Huawei kit in these upgrades due to security concerns. Historically, UK mobile operators have used large amounts of Huawei equipment when building network infrastructure.
Both Australia and New Zealand have instructed domestic operators to bar Huawei from bidding on network contracts. The UK government will reveal its decision on Huawei when it publishes a telecoms supply chain review in the coming weeks.
Liu said that Huawei has made significant contributions to the British economy since it opened its first UK office 16 years ago. Huawei has worked as a major supplier for UK mobile network operators since it clinched its first contract with BT in 2005. Between 2013 and 2017 the company invested or procured more than 2 billion pounds ($2.54 billion) in the UK, and last year the company pledged to spend a further 3 billion pounds on British technology and services over a five-year period.
"Huawei is a good company, it's a leader in 5G. They are here for win-win cooperation with their British counterparts, and they contribute tremendously," said Liu. "They employ 7,000 people, and in terms of win-win collaboration, if the UK collaborates with Huawei there will be a promising future for both sides."
The UK was China's top investment destination in Europe between 2007 and 2017, according to the American Enterprise Institute's China Global Investment tracker, but Liu said that bilateral business relations could take a hit in the event of a ban on Huawei.
"For the past five years, investment from China (into the UK) has exceeded the total from the previous 30 years," said Liu. "Chinese investment is booming in this country. In the last year it increased by 14 percent. But if you shut the door for Huawei it will send a very bad and negative message to other Chinese businesses."
This week, the BBC reported that UK mobile operators will send a letter to the British government requesting that it urgently clarifies its position on Huawei.
A recent report commissioned by four of the nation's major mobile network companies – EE, O2, Three and Vodafone-claimed that a ban on Huawei would delay 5G rollout in the UK by up to two years and damage Britain's chances of becoming a world leader in future technologies.
The report, published by tech consultancy Assembly Research, estimated such a delay would cost the British economy between 4.5 billion pounds and 6.8 billion pounds.