Xi honored for building Kyrgyz ties
By An Baijie in Bishkek, Kyrgyzstan and Cao Desheng in Beijing | China Daily | Updated: 2019-06-13 22:55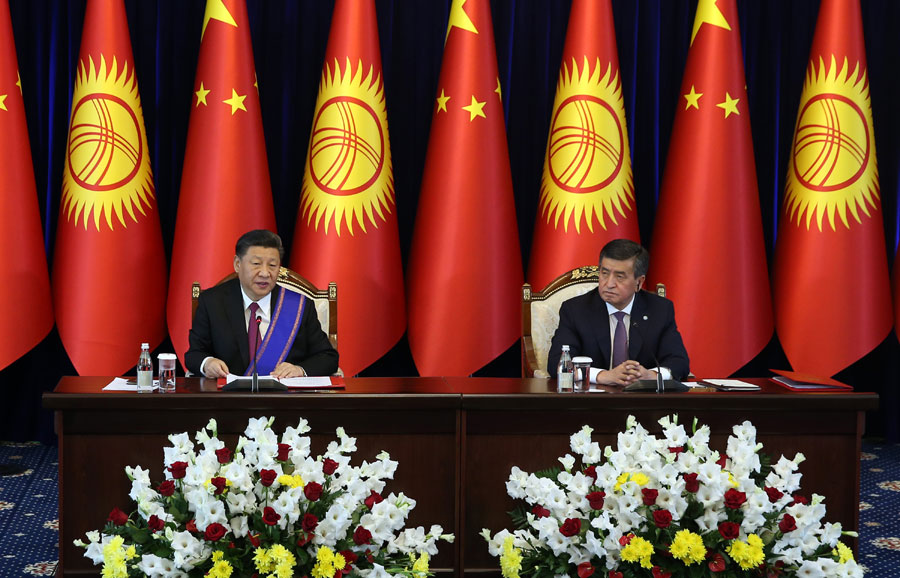 Top state award, conferred by counterpart in Bishkek, a symbol of friendship
Kyrgyz President Sooronbay Jeenbekov conferred the Manas Order of the First Degree on his Chinese counterpart Xi Jinping on Thursday in recognition of his great contributions to promoting relations between the two nations.
The ceremony was held at the Ala Archa state residence in the capital, Bishkek, as part of Xi's state visit to the Central Asian country.
The Manas Order, established in 1996, is the highest state award of Kyrgyzstan. It has three degrees and the first degree is the order's top level.
It is awarded to individuals for outstanding contributions to the protection and strengthening of the state and democratic society, the unity of the people, and the economic, spiritual and intellectual potential of the country.
Jeenbekov said in his speech that the order is the embodiment of the symbols of life - the sky, water and sun - and bears the name of the great hero chieftain from the Talas region who united the Kyrgyz people.