Learn Chinese in Riyadh
Share - WeChat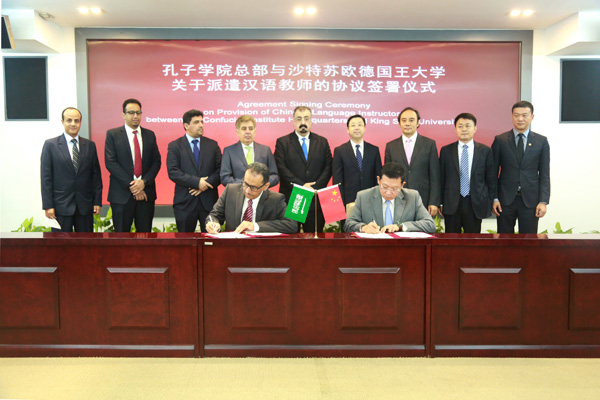 He says the move will enable the younger generation to further understand the strategic nature of the relationship between the two countries and build a bridge of communication through the Chinese language.
Liu Li, principal of Beijing Language and Culture University, says that the university has a long tradition, and a rich academic resource accumulation, of Arabic language and culture studies and it has been cooperating with Saudi's educational institutions for years.
The two universities will further their discussions on building a Confucius Institute branch together, he says.
Student exchanges and visiting programs will be launched with credits recognition, while more academic cooperation is developed, according to Liu.
The first test center for Saudi-based students to take the Chinese proficiency test, also known as the HSK test, was established in August.
So far, 16 Confucius Institute branches and six Confucius classrooms have been established in 11 Arab League member states, including Egypt, Lebanon and the United Arab Emirates.
Also on Monday, the first Confucius Music Center in Europe opened at the Petro Tchaikovsky National Music Academy of Ukraine.
The opening ceremony was attended by the Chinese Ambassador to Ukraine Du Wei and representatives from the Ministry of Education and Science of Ukraine and a delegation of China's Central Conservatory of Music, headed by Ye Xiaogang, a well-known composer, who is also the chairman of Chinese Musicians Association.
"I am sure that today's event will have a great, long-term, positive impact on the development of the relations between our countries," said Maksym Strikha, vice-minister of education and science of Ukraine, during his speech at the opening ceremony.
"I am convinced that the opening of the Confucius Music Center will promote exchanges and cooperation between the two countries in the field of music and art," says Ye.
"The Confucius Music Center will be able to introduce both traditional and contemporary Chinese music, which is developing rapidly."
Maksym Tymoshenko, the rector of the Petro Tchaikovsky National Music Academy of Ukraine, says he appreciates the fact that most of the academy's foreign students are from China and hopes to welcome more Chinese students in the future.
Contact the writer at fangaiqing@chinadaily.com.cn
Xinhua contributed to the story.
Most Popular