Measure boosts commercial space industry
Share - WeChat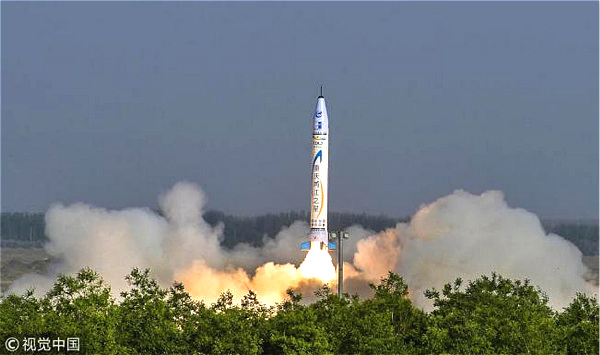 Private enterprises encouraged to use facilities of State-owned companies
China's space authorities have published a regulation to manage and boost the development of the commercial space launch industry, a move private players expect to foster a prosperous market and sustainable growth.
The regulation was jointly made by the State Administration of Science, Technology and Industry for National Defense and the Central Military Commission's Equipment Development Department, and published on Monday.
It covers the research, development, production, testing, launch, safety and technology control of a "commercial carrier rocket", which is defined as a rocket designed and built from non-State funds intended to make a profit.
The regulation says that makers of the rocket, engine or any part containing explosive or inflammable substances must obtain approval from related authorities before starting their operations.
Before conducting a launch, commercial space companies must specify their orbital and frequency registration, safety measures and insurance policies and make sure such activity will not compromise national security and public interests.
All orbital missions, which refer to launches that place payload to any given orbit, must be conducted at space centers licensed by the government, the regulation stipulates.
It also encourages private enterprises to cooperate with State-owned companies or research entities and make use of the latter's facilities.
Yao Bowen, a spokesman for the Beijing-based, private rocket maker i-Space, said on Tuesday that the regulation will provide a statutory foundation for China's commercial space sector and help nurture innovation by private companies.
"The regulation stipulates that only enterprises with the required qualifications will be allowed to take part in research, production and launch of carrier rockets, closing doors to those who use the name of 'commercial space' to bamboozle investors," he explained. "This will help to prevent the waste of resources and encourage healthy growth of the industry."
Yao suggested that space authorities should give more opportunities to non-State actors, such as allowing them to participate in government-funded space programs, so they can become more competitive in the international market.
Moreover, the government's control over the domestic space market should be further relaxed and commercial programs governed by market rules rather than government policies designed for State space projects.
Zhang Changwu, CEO of Land-Space, another private space startup in Beijing, said the regulation represents space authorities' increased attention on the commercial sector.
"It will spur actors in this sector to improve their regulatory compliance and self-discipline, and will also encourage them to give more importance to their technology and product quality," Zhang said.
Xie Tao, CEO of Commsat, a private satellite producer in Beijing, said the government appears eager to see a thriving and robust commercial space market, which will need active participation from private companies.
He anticipated that the introduction of the regulation will substantially reduce the cost of commercial launches and bring benefits to China's satellite businesses.
"It introduces both rules and competition into the launch service market," Xie said.