Xi values education exchanges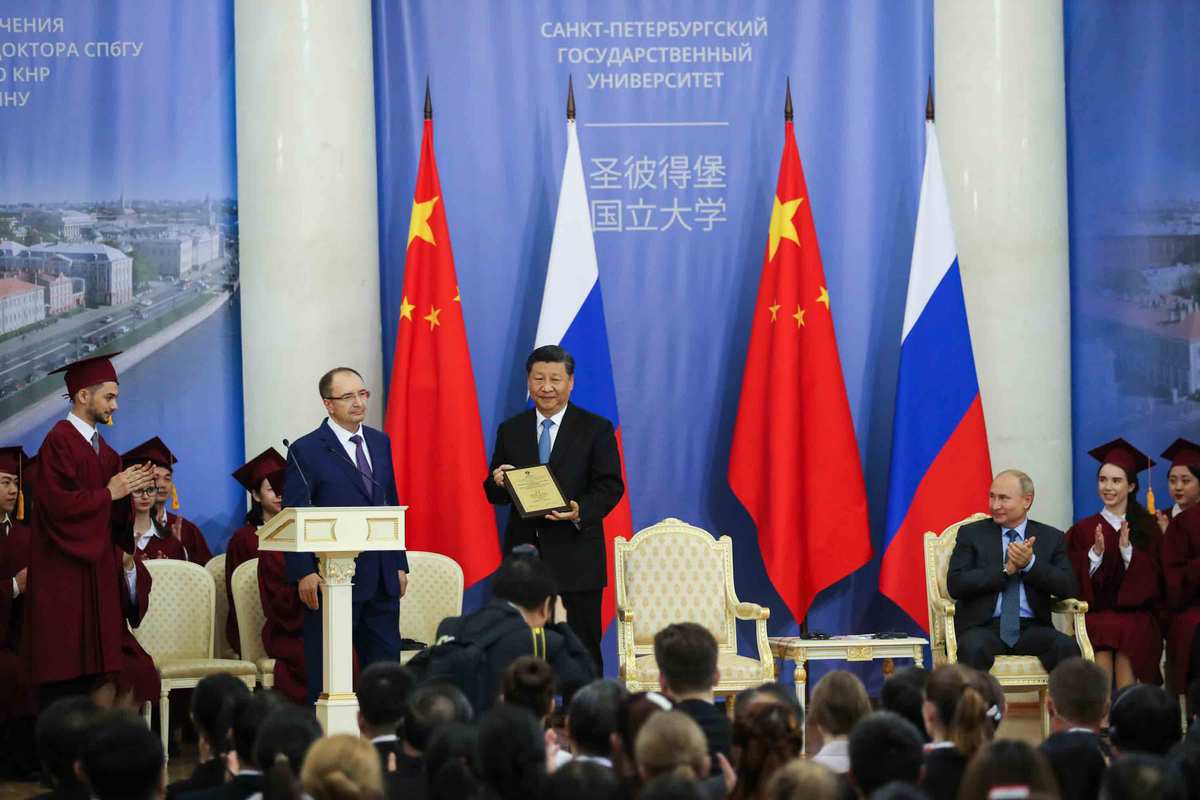 Chinese president receives honorary doctorate from top Russian university

President Xi Jinping emphasized the importance of more educational exchanges and cooperation between China and Russia as he received an honorary doctorate from St. Petersburg State University on Thursday.

The honor was conferred on Xi at a ceremony witnessed by Russian President Vladimir Putin, faculty members and students.

Expressing his gratitude, Xi hailed the university as one with worldwide prestige, a long history and many renowned professors.

The oldest university in Russia, St. Petersburg State University was founded by Peter the Great in 1724.

It now features seven Nobel Prize winners among its faculty and counts Putin, Russian Prime Minister Dmitry Medvedev and Vladimir Lenin, the first leader of the Soviet Union, among its alumni.

Xi said the university has fostered talent for generations and has made outstanding contributions to the development of science, culture and education in Russia and the rest of the world.

It has also trained a large number of Sinologists who are highly accomplished in the Chinese language and the country's culture, he said.

Cooperation in education is an important way to promote understanding and friendship between peoples, and St. Petersburg State University, through its close cooperation with Chinese universities in recent years, has played an important role in promoting Chinese culture in Russia and Russian studies in China, he said.

Xi recalled witnessing Tsinghua University, his alma mater, confer an honorary doctorate on Putin in Beijing in April.

The two universities were among the top higher education institutions from both countries, and the offering of the honorary doctorates to himself and Putin exemplified the close educational and people-to-people exchanges between China and Russia, he said, adding that it was also an important indicator of the high level of relations between the two countries.

Xi called upon both sides to extensively spread high-quality cultural products from the other country, and to better learn from each other, so as to train more talent.

Xi also appealed to the youth of both countries to dare to shoulder the mission endowed by the times and make joint efforts to contribute to the two countries' comprehensive strategic partnership of coordination for a new era.

In his speech at the ceremony, Putin said he was honored to see his alma mater offer Xi an honorary doctorate, and offered his congratulations to the Chinese president.

He lauded the important contributions made by Xi in promoting the development of bilateral relations and the important initiatives Xi has launched and advanced in international relations.

The Belt and Road Initiative, proposed by Xi, has now obtained widespread support and participation from the international community, he said.

Putin added that the top academic institutions in Russia, such as St. Petersburg State University, have conducted fruitful exchanges and cooperation with their counterparts in China, and Russia-China relations will see extensive development, with both peoples continuing to learn about each other.

On Wednesday, Xi and Putin witnessed the signing of a cooperative agreement at the Kremlin between Tsinghua University and St. Petersburg State University. The two universities agreed to jointly build a Russia Institute at Tsinghua University, covering research areas including governance and Russia-related topics. It will also offer consultancy services and research on development strategies for industries related to education, technology and culture.

Ren Qi in Moscow contributed to the story.