China wants to share, Xi says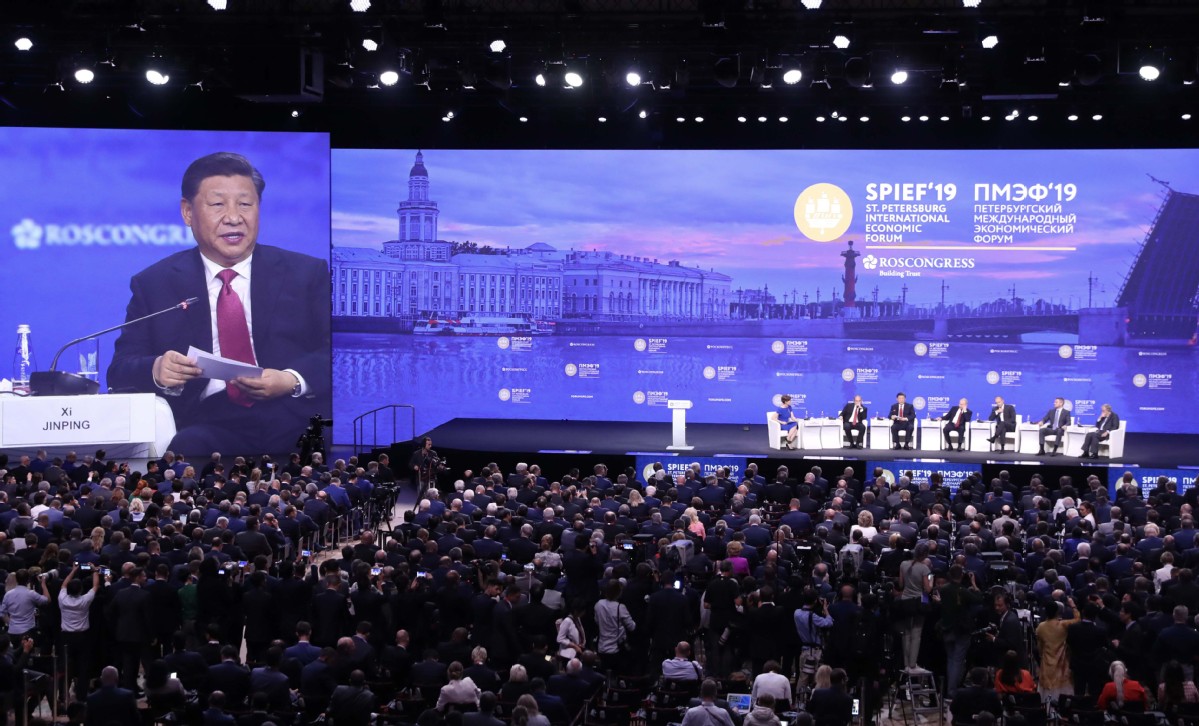 Speech in St. Petersburg highlights global teamwork, BRI coordination
President Xi Jinping reaffirmed China's stance on promoting the process of economic globalization and maintaining the multilateral trading system at a forum held in Russia on Friday.
China would like to share its most advanced scientific achievements with the world, including 5G technologies, and jointly cultivate new core competitiveness and share its economic growth model, Xi said.
The president made the remarks in a speech at the plenary session of the 23rd St. Petersburg International Economic Forum.
Xi said that China will continue to deepen its reform and opening-up, ease market access and build a market environment with fair competition.
China would like to promote coordination between the Belt and Road Initiative and the United Nations' 2030 Agenda for Sustainable Development, Xi said.
Noting that this year marks the 70th anniversary of the founding of the People's Republic of China, Xi said the Chinese government is making all-around efforts to achieve its goal of lifting all the country's poorest people out of poverty by 2020.
The Chinese government aims to create more than 11 million jobs this year, Xi said, adding that China will promote the development of occupational education.
Xi said the Belt and Road Initiative, first proposed in 2013, aims to achieve common development with other countries.
China held the Second Belt and Road Forum for International Cooperation in April, during which participating countries agreed to promote the building of the Belt and Road with high quality, Xi said.
Russian President Vladimir Putin said in his speech that the world economic system is facing a crisis in all aspects, and that such challenges were unexpected.
Noting that trade protectionism is rising, Putin criticized some countries' measures, including targeting Chinese technological giant Huawei, and refusing to accept students from other countries.
The contribution made by developed countries to global economic growth has decreased from 58 percent in 2008 to the current 40 percent, Putin noted, adding that emerging market economies have become an important driving force for global economic growth.
Before the plenary session in St. Petersburg, Xi and Putin attended a subforum, the second Russian-Chinese Energy Business Forum.
Xi departed St. Petersburg for Beijing on Friday afternoon, wrapping up his three-day state visit to Russia.
Contact the writers at anbaijie@chinadaily.com.cn