All aboard for Duanwu
Share - WeChat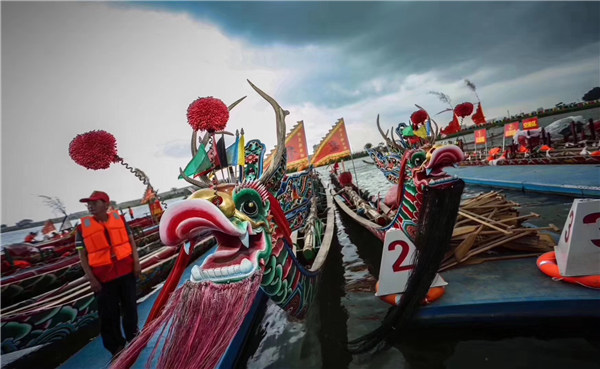 It's become a routine for Yuan Yutao, 19, to make short videos of other people rowing a dragon boat along a river and post them on the specialized app Kuaishou.
Dragon boat culture is deep-rooted in the Chaoshan area of Guangdong province and his hometown of Jieyang city is an outstanding example, thanks to the city's exquisitely crafted dragon boats and the passion they inspire in the locals.
It's a tradition for Yuan's fellow villagers to paddle in a dragon boat from noon to dusk during Duanwu (Dragon Boat) Festival, which always falls on the fifth day of the fifth lunar month. Since childhood, Yuan has enjoyed the excitement of the event and he was overjoyed that his parents finally allowed him to row a dragon boat at the age of 15.
"Young people should become more involved in these festivals, so our cultural heritage can be passed on over the generations," says Yuan, a high school student from a village in Jieyang.
He says his peers are more interested in mobile games and they rarely join him when he invites them along to watch the paddle race. At least his 17-year-old brother has shown interest in boating, albeit under his influence.
Popularity online
The craze for uploading short videos in China offers people like Yuan a great opportunity to promote the country's culture and customs directly through visuals.
"When I tell the paddlers their short videos are popular online, they're very happy and encourage me to film more," he says.
Now his video account "Jieyang dragon boat culture" has about 9,000 fans on Kuaishou, which has around 200 million daily active users, according to the company.
As well as filming his own clips, Yuan also asks his fans to submit their own short videos. He often selects a few to post on his account to aid promotion.
He says many of his fans are dragon boat lovers from the Chaoshan area. They like videos showing closeups of the elegant dragon head and the grand, sacrificial ritual before the boat is lowered into the water.
Local dragon boats are generally 28-meter-long and 1.35-meter-wide. There are seats for 51 paddlers, a drummer, a person to bang the gong and a helmsman.
Most Popular