52-year-old to take 23rd gaokao
Share - WeChat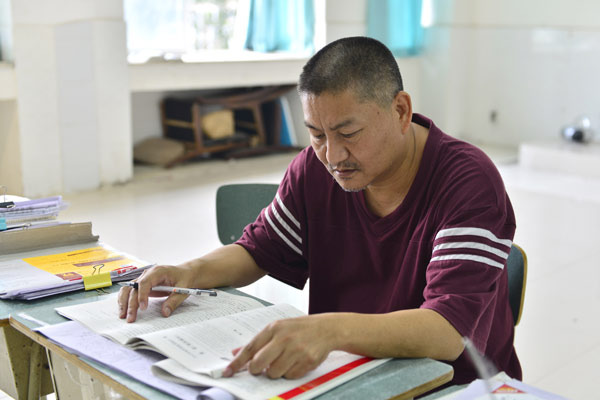 A 52-year-old man from Southwest China's Sichuan province will sit for the national college entrance examination, or gaokao, on Friday for the 23rd time.
Liang Shi, who was born in 1967 in Wengong township, Renshou county, Sichuan province, took the gaokao for the first time in 1983 and also in the two following years, as his teacher parents insisted.
Liang, the fourth child in his family, said he realized his parents wished their five children would study in university, but none of them did. The family's situation could not support his further studies and Liang started to work.
To fulfill his dream of studying in university, Liang continued to take the gaokao test from 1987 to 1991 every year, but every time he failed. In 2001, China canceled the age limit on gaokao test-takers, and Liang took the test in 2002.
When his business on construction materials reached a level of self-sufficiency in 2010, he returned and continued to take the test every year since.
Liang scored a 453 in 2016 and a 469 in 2018 — good enough marks to be enrolled by a university — but he gave up the opportunity.
Liang said he felt great pressure from outside as some people questioned his behavior, but added he dreamed of being enrolled at a university with a good study environment, not just to get a diploma.
He wanted to study at Sichuan University, and knew it was too difficult for him as the score should be more than 600 points. So he thought Sichuan Normal University would be another good choice.
For this year's gaokao, he has taken many practice tests to quicken his pace, as he was too slow in past years and could not compete with the high school students who also study diligently.