How can US Fox News reporting improve?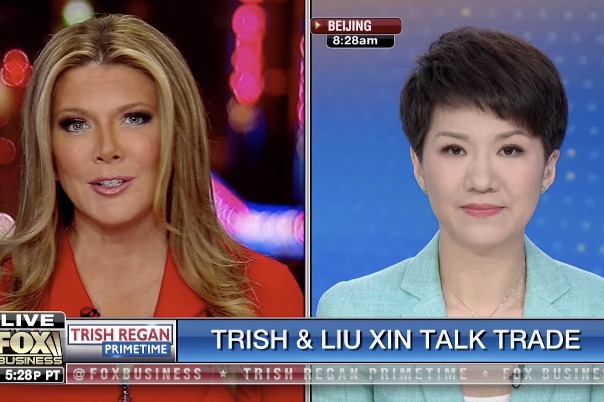 I watched the recent debate between Fox News anchor Trish Regan and longtime CCTV reporter Liu Xin, and could only come away with one conclusion: US news reporting is not only stilted and undiscerning, it reveals a deeper problem. As a powerful country operating in a complex world, the US no longer has a guiding narrative of its own.
As a San Francisco resident born and raised in the US, it pains me to see my country—America—in such a state. As a sociocultural anthropologist and former lawyer, I now fear for my country and its future. A civilization cannot continue without a national narrative.
Let me explain this point by describing what I saw as CCTV reporter Liu Xin participated in the "debate". The US might take a lesson from her conduct. When Trish Regan began the debate by mistakenly stating that Liu Xin was "a member of the Chinese Communist Party"—very likely offered to inflame an already fearful American viewing audience—Liu Xin politely answered that this was not true and that "this is a matter of public record".
When Trish Regan then broadly stated that China had stolen a lot of intellectual property rights from US corporations—with multiple cases now filed with the WTO, the DOJ and the FBI—Liu Xin noted that these cases "are all individual cases" and that individual companies in the US steal from other individual US companies all the time.
And this is where Liu Xin became truly persuasive. She noted that, "This kind of blanket statement is not helpful." In other words, she not only responded to the weakness in the US anchor's uncomfortably sweeping assertion, she was also suggesting there might be another way to view this. She was moving toward a possible solution.
So when Trish Regan went on to mention Huawei's problems and the need for more US tariffs—and that China should even consider abandoning its "developing nation status"—Liu Xin called out Regan on her accusatory and sweeping assertions. She did this by noting that, yes, China is now No 1 in total GDP but that when taking into account China's 1.4 billion population and calculating its "per capita GDP", this reveals that China's per capita GDP is only one-sixth of that of the United States. Not even close.
What is crucial to point out here is that Regan was unable to form a cogent response to this. In contrast, Liu Xin was not only being cogent but constructive. In ever so gentle terms, Liu Xin then noted how only a few decades earlier, China and the US sat down and hashed out an agreement on trade. At the time, it was a difficult and challenging dialogue for all parties involved. But they reached an agreement.
"Can we do this again?" Liu Xin gently offered the US anchor. Noting how those earlier negotiations had been "multilateral", Liu Xin suggested that a new set of negotiations could be launched that are once again multilateral. In this way, she was offering a possible solution—but very sadly, Trish Regan again had no response.
And so here is the difficulty as I see it. The US currently has no binding narrative to anchor it in time and place. So whenever a new crisis appears, the US does not have the ability to stand on firm ground and form a cogent, unified response. Just like Trish Regan, the US is frozen in time. And with this being the case, the US can perceive of only one course of action, the same that Trish Regan took: attack.
So what exactly can US Fox News reporting learn from this exchange? To me, it is simple. Instead of being the mouthpiece for scripted, aggressive messages designed to further inflame an underinformed and fearful American public, the news could, first, become a platform for the true exchange of views, and through this, second, surface possible avenues for win-win solutions and compromise.
And the US? With President Trump now raising claims of high treason—and members of Congress calling for his impeachment—a constitutional crisis seems imminent. With these developments, it must finally be acknowledged that America's most precious narrative of being "the first democracy" is being torn down accusation by accusation. The challenge now, in my view, would be for the US to create a new democracy that is more nearly "by, for and of the people". This could be the first step toward creating a new national narrative.
And China? China could offer to share its fast-rail technology and help the US build fast-rail projects of its own. It could also share its fast-developing desalination technology with the US. Already in place, China's new think tank—the Guo Jie Senior Professors Science and Technology Consultation and Development Academy—is one such vehicle for the promoting and sharing of projects like these.
And in exchange? China could ask US researchers to share their fast-developing solar (barium-cesium hot bar-initiated) technology, which shows high promise for turning coal-burning effluent into ethanol.
Now that would be win-win.
The author is a sociocultural anthropologist and former lawyer based in San Francisco, USA.
The opinions expressed here are those of the writer and do not necessarily represent the views of China Daily and China Daily website.
Most Viewed in 24 Hours
China Views